ESPN Ombudsman: 'Flood' of Complaints over Olbermann's Politics Has Become 'Trickle'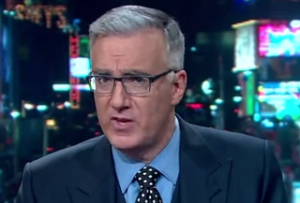 USA Today Sports put up a fascinating piece on Tuesday asking what famously cocksure ABC sportscaster Howard Cosell would be doing today if he were alive.
It's well worth the read, but here's one interesting nugget that especially appeals to Mediaite's audience: ESPN was subjected to a deluge of hate mail over hiring Keith Olbermann in 2013; but that "flood" has become just a "trickle" now.

Olbermann was heavily influenced by Cosell, who passed away 20 years ago, but the USA Today sports article noted that the two famously blustery reporters have had wildly different career trajectories. Cosell spent his entire career with ABC until they fired him after his 1985 book, I Never Played the Game, spoke ill of many of his colleagues; Olbermann, on the other hand, has bounced around from network to network, burning bridges at each in the process.
Interestingly, though, ESPN suggested that Olbermann has been on his best behavior and has settled in quite nicely with his ESPN2 show. His show was moved to the coveted 5 p.m. slot as a reward, and even his suspension-worthy run-in with Penn State students has become a thing of the past.
And the controversy surrounding his hire has allegedly subsided:
While right wing ESPN viewers initially objected to Olbermann's renewed presence in their sports because of his stances taken during about a decade in cable news, by one metric their voiced displeasure mostly dissipated. "I received a lot of mail about that when he first came back," says recent ESPN Ombudsman Robert Lipsyte. "But as time went on, the flood turned to a trickle — I don't know whether they lost heart, got used to him, or found he wasn't that objectionable."
As for where Cosell would be today, Olbermann had this to say: "[T]here would've been plenty of other platforms in news and political TV that he would've thrived in, in addition to or in lieu of, just sports." Fellow ESPN host Tony Kornheiser suggested Cosell would thrive as a "generalist" primetime talk host, similar to Bill O'Reilly.
— —
>> Follow Andrew Kirell (@AndrewKirell) on Twitter
Have a tip we should know? tips@mediaite.com