ESPN's ESPYs Promo Reduces Late Jim Valvano to a Prop; Exploits Jenner for Ratings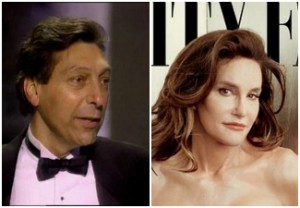 It's July 3rd. Peppa Pig is currently occupying the big screen in the Concha living room (keep the baby happy when she's having her bottle before bed is the executive order in this house). So to keep Big Daddy happy (all 5'9 of him), the iPad and the Watch ESPN App are put to good use while keeping an eye on said baby. Win-win for all…
And then…during what should be a benign promo ad for the ESPYs (Excellence in sports performance and achievements, as decided by ESPN) during a telecast of Giants-Nats, the network somehow found a way to make me throw up in my mouth a little…
For those who haven't seen the ad, the late Jim Valvano first appears on the screen. The sight is a familiar one: It's Valvano–the former NC State Men's Basketball coach and once one of the biggest personalities in sport–in a tuxedo giving what could be called one of the most inspirational speeches on live television you'll ever witness. If you're not familiar with Valvano's story, he coached college basketball for 23 years (including ten years at NC State, where he won the school's last national championship in 1983) before being diagnosed with metastatic adenocarcinoma (cancer) in June of 1992. One year later at the ESPY's, Valvano–who's health had greatly deteriorated–made everyone in the audience and pretty much everyone at home (including me) tear up when sharing this advice:
To me, there are three things we all should do every day. We should do this every day of our lives. Number one is laugh. You should laugh every day. Number two is think. You should spend some time in thought. And number three is, you should have your emotions moved to tears, could be happiness or joy. But think about it. If you laugh, you think, and you cry, that's a full day. That's a heck of a day.
He concluded with this:
I know, I gotta go, I gotta go, and I got one last thing and I said it before, and I'm gonna say it again: Cancer can take away all my physical ability. It cannot touch my mind; it cannot touch my heart; and it cannot touch my soul. And those three things are going to carry on forever.
One of the great speeches of all-time, no doubt. Please watch it here as three million others have on YouTube alone. The crying part came not only because Valvano's words, but because he was already gravely ill when taking the stage: Upon finishing to a tearful standing ovation, he was so weak that Dick Vitale and Mike Krzyzewski had to help carry him down off the stage. Valvano would pass away just weeks later.
So here's where the nausea comes from: Now 22 years after that speech, ESPN has decided to take the three pieces of Valvano's advice to live a better life (laugh, think, cry on a daily basis) while intertwining cutaways of LeBron James (laughing), Peyton Manning (with a pensive nod to illustrate thinking) and Robin Roberts (crying) between cuts back to Valvano. All of those cutaways, obviously, are shots of LeBron, Peyton and Roberts from other past ESPYs that have exactly zero connection to Valvano's speech (in another version I've seen since, Michael Sam is cut into the crying part in place of Roberts. Again, no connection since Sam was three years old at the time). It's all in an effort to make the ESPYs something much more important than it is…as some kind of grand cultural event instead of as what it really is: Something to fill three hours on the rare evening no MLB, NFL, NBA or NHL games are scheduled.
Memo to ESPN: You want to show the speech in its entirety, as has been an ESPY tradition? By all means, do so in the name of donations to the charity alone. But to slice and dice it while taking its meaning and purpose completely out of context? A whole new bowl of wrong. To use Valvano's uplifting, emotional, utterly genuine words–which was like watching a man knowing he's about to die and giving his own eulogy–and somehow turn it into something that hokey, that offensive and that nauseating is why ESPN has the reputation as the biggest self-server in the history of broadcast television. And it absolutely cheapens the memory of Valvano and his message, whose charity (The V Foundation) has raised over $130 million for cancer research.
No matter…now ESPN thinks it's good idea to bastardize his words in hopes of making a few more people watch on ABC. Know this: That already won't be a challenge. This year's most hyped highlight will be Caitlyn Jenner receiving the Arthur Ashe Courage Award. Bob Costas sums in up this decision perfectly in a recent radio interview with Dan Patrick, a former ESPN anchor:
"It strikes me that awarding the Arthur Ashe Courage Award to Caitlyn Jenner is just a crass exploitation play – it's a tabloid play. In the broad world of sports, I'm pretty sure they could've found someone – and this is not anything against Caitlyn Jenner – who was much closer actively involved in sports, who would've been deserving of what that award represents. That's not to say it doesn't take some measure of personal courage to do what Caitlyn Jenner has done."
Someone who won't be mentioned in any award capacity that evening (July 15) is the late Lauren Hill. A high school basketball star, she was diagnosed with brain cancer but still had the courage to fight and over $1.5 million for cancer research in the process. Undaunted by her physical state, her story went viral when she accomplished her objective of playing in an official college basketball game (Mount St. Joseph University in Cincinnati successfully petitioned the NCAA to move up its season opener to accommodate her wish to compete).
Hill died in April but the charity lives on in the same way Valvano's does.
No matter: ABC/ESPN will get monster ratings when non-sports-fans tune in simply to hear Jenner's speech.
Crass exploitation indeed.
In the meantime, expect to see the ESPYs hyped on ESPN and ABC in the usual overwhelming and obnoxious fashion.
All while reducing the late Jim Valvano to a prop while exploiting Caitlyn Jenner to
prop ratings.
— —
Follow Joe Concha on Twitter @JoeConchaTV
Have a tip we should know? tips@mediaite.com