ESPN's Stephen Smith to Women: 'Don't Do Anything to Provoke' Men into Beating You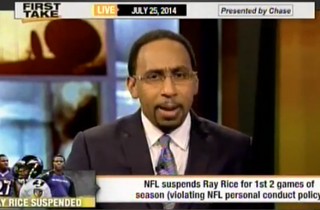 Fresh off his controversial defense of Tony Dungy's gay comments, Stephen A. Smith has a message to all the women outraged by NFL player Ray Rice's paltry suspension for domestic abuse: Don't say anything that could make your man beat you.
"It's not about him, then. It's about you, and here's what I mean by that," Smith said in a long monologue addressing the women-watching contingent of First Take today. "I think that just talking about what guys shouldn't do, we got to also make sure that you can do your part to do whatever you can do to make, to try to make sure it doesn't happen."
It must be read in full to be believed:
"We keep talking about the guys. We know you have no business putting your hands on a woman…But what I've tried to employ the female members of my family…and this what, I've done this all my life,'Let's make sure we don't do anything to provoke wrong actions.' Because if I come, or somebody else comes, whether it's law enforcement officials, your brother or the fellas that you know, if we come after somebody has put their hands on you, it doesn't negate the fact that they already put their hands on you. So let's try to make sure that we can do our part in making sure that that doesn't happen."
So let us walk through this: If you're a woman, and you get hit by a man, even if law enforcement comes around, and your man family members rescue you, it still doesn't matter, because you got yourself beaten by your spouse. And it happened, and it's your fault. That's the power of language!
Smith caveated his points by condemned men who were just violent to begin with, but added that, really, they were only violent because women provoked them:
But at the same time, we also have to make sure that we learn as much as we can about elements of provocation. Not that there's real provocation, but the elements of provocation, you got to make sure that you address them, because we've got to do is do what we can to try to prevent the situation from happening in any way. And I don't think that's broached enough, is all I'm saying.
It's worth noting here that Stephen Smith's favorite rhetorical device is a version of "I love you like my own brother, but you're a bad person, and it's your fault," as infamously spoofed by Saturday Night Live. Oddly enough, this is also what domestic abusers commonly tell their victims.
Watch below via ESPN:

[h/t The Daily Banter]
[Image via screenshot]
—
>> Follow Tina Nguyen (@Tina_Nguyen) on Twitter
Have a tip we should know? tips@mediaite.com