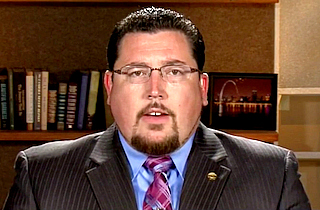 Ferguson Mayor James Knowles defended his embattled police department on MSNBC Thursday morning, saying that the peaceful protests over the death of Michael Brown were pocked by violence that required vigilant law enforcement response.
"We're having a difficult time, especially at night, discerning between those who are peacefully assembling and lawfully protesting and those who wish to infiltrate and cause problems and hide amongst the peaceful people who are trying to have their voices heard," Knowles said. "What your cameras aren't showing is that gunfire is erupting all the time. As peaceful people protest, have their vigil, there are people outside those lines firing in the air, around, through officers. Our own police chief was shot at, as well as the county police chief, was shot at in a drive by."
"That's why we have to be vigilant," Knowles continued. "I can't second guess these officers, they are the professionals, they have learned from many years of dealing with incidents across the nation."
Knowles cautioned that of the hundreds of cops on the streets of Ferguson, only about fifty were his (the rest are St. Louis County officers). He also took a shot at the Washington Post, which has reported that only three of Ferguson's fifty-three officers were black, despite the town's two-thirds African American population. "I think I know better than the Washington Post," he said, disputing the paper's figures.
Watch the clip below, via MSNBC:
[Image via screengrab]
——
>> Follow Evan McMurry (@evanmcmurry) on Twitter
Have a tip we should know? tips@mediaite.com