Sen. Warren and Rep. Amash Make Near-Identical 'War Zone' Statements on Ferguson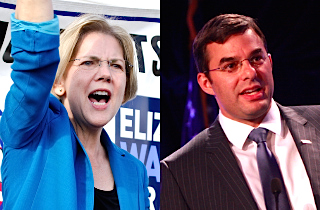 In the aftermath of the fatal shooting of 18-year-old unarmed Michael Brown by Ferguson, Missouri police this past weekend, there has been much handwringing over which political factions are and are not speaking out on the issue. The Washington Post's Paul Waldman wanted to know why libertarians aren't "talking about" Ferguson, a false notion that Mediaite's Andrew Kirell put to bed this morning.
One case in point is this tweet from libertarian-leaning Rep. Justin Amash (R-MI), posted last night as reports of police arresting members of the media began to circulate:
Images & reports out of #Ferguson are frightening. Is this a war zone or a US city? Gov't escalates tensions w/military equipment & tactics.

— Justin Amash (@repjustinamash) August 14, 2014
But as journalist Glenn Greenwald pointed out on Thursday, progressives should really be asking why more Democratic politicians are not speaking out on behalf of Ferguson's African-American community:
Progressives should be asking: "where are Dem politicians on Ferguson?" rather than asking that about libertarians http://t.co/MYod4eX3mR

— Glenn Greenwald (@ggreenwald) August 14, 2014
Of course, President Barack Obama did release a statement on the incident Tuesday afternoon, calling Brown's death "heartbreaking" and urging residents of the city to "remember this young man through reflection and understanding" and not through violence. He did not go so far as to condemn the police activity, either at the original event or during the protests that followed.
Then, Thursday morning, Sen. Elizabeth Warren (D-MA), arguably Amash's ideological opposite and one of the only members of Congress with the ability to fire up the left the way Amash fires up the right, posted the tweet below. It used the exact same rhetorical formulation as Amash's, but this time took the form of a statement instead of an answer:
This is America, not a war zone. The people of #Ferguson just want answers. We all want answers.

— Elizabeth Warren (@elizabethforma) August 14, 2014
One prominent libertarian-leaning Republican who has yet to weigh on Ferguson is Sen. Rand Paul (R-KY). But according to Slate's Dave Weigel, his comments are coming later today:
Rand Paul's staff says his #Ferguson response is "coming today. (Libertarian Rep. Justin Amash has weighed in: https://t.co/ZI5HpU5JKD

— daveweigel (@daveweigel) August 14, 2014
Update — Aug. 14, 1:20 p.m. ET: Sen. Paul has penned an op-ed for Time magazine's website that calls for a demilitarization of America's police forces in light of the Ferguson situation and again echoes the "war zone" analogy that Warren and Amash put forward. "The images and scenes we continue to see in Ferguson resemble war more than traditional police action," he wrote.
[Photo via screengrab]
— —
>> Follow Matt Wilstein (@TheMattWilstein) on Twitter
Have a tip we should know? tips@mediaite.com