Former GOP Rep Joe Walsh: 'We Need To Begin Profiling Who Our Enemy Is In This War: Young Muslim Men'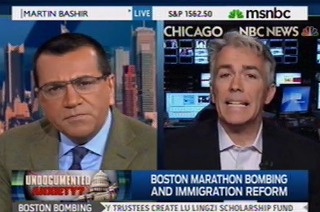 Speaking out in opposition to immigration reform in the wake of the attacks on the Boston Marathon last week, former Rep. Joe Walsh (R-IL) told MSNBC host Martin Bashir that the Senate's plan must be reconsidered in light of the fact that the perpetrators of those attacks were immigrants. He said that the attacks were a stark reminder that America is at war. Walsh added that "we need to begin profiling who our enemy is in this war: young Muslim men."

RELATED: Please Don't Judge All Caucasians By The Actions Of A Few
Liberal columnist Jonathan Alter told Bashir that the concerns some had voiced about the Senate's immigration reform were using the "pathetic excuse" of the Boston attacks to justify their opposition.
Alter said that the Senate's plan would, in fact, make it more difficult for malefactors to enter the nation with the intention of carrying out attacks. "People who say that, you know, this is an argument against immigration reform – even if they're in the United States Senate – simply don't know what they're talking about," Alter asserted.
Walsh said he opposed the immigration reform plan because "it's an unworkable piece of legislation."
"Republicans are rushing to do this because they're afraid of the politics," Walsh said. "Democrats are rushing immigration reform because they want 11 million voters."
"This country got a stark reminder last week, again, that we're at war," Walsh insisted.
"Oh, come on," Alter scoffed.
"Not only should we take a pause, Martin, when it comes to immigration, we need to begin profiling who our enemy is in this war: young Muslim men," Walsh insisted.
Walsh said that there is no way to presently identify how many of the estimated 11 million illegal immigrants are bad actors.
Watch the clip below via MSNBC:
> >Follow Noah Rothman (@NoahCRothman) on Twitter
Have a tip we should know? tips@mediaite.com