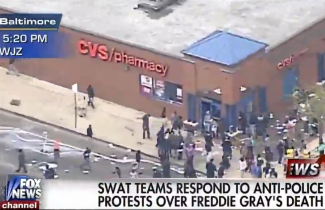 Fox News has two very different programming entities: Straight news coverage via programs such as America's Newsroom, Happening Now, The Real Story, and Shepard Smith Reporting; and opinion offerings like The O'Reilly Factor, Hannity, Outnumbered, and The Five.
Usually Fox is wise enough to leave these two entities on separate islands when it comes to covering big events. You won't see, for example, a Bill O'Reilly or Sean Hannity anchoring, say, election night coverage. Nor will you ever see Shepard Smith as a panelist on The Five. Since its inception, Fox runs itself like your average newspaper: There's the hard news section and there's the op-ed page — and the split is mostly even. Pew Research's most recent study on the matter had Fox at a 54/46 opinion-to-straight-news-reporting split. MSNBC was an 85/15 split (in favor of opinion) while CNN was at 46/54.
So it was interesting (at first) to see Smith interacting with the cast of The Five as riots in Baltimore began to really spin out of control Monday afternoon. Like Ferguson, all the cable news networks rightly went all-in on Baltimore coverage…a no-brainer given this is a major American city and the visuals and chaos presented via local Baltimore affiliates (burning cars, rocks being hurled at police, stores being looted). At Fox, situations like this usually call for Smith's "News Deck" to preempt all opinion programing in its wake. But the network instead opted to combine Smith with the unfiltered pundits of The Five, and the result was truly awkward.
At first, Shep ran the show with little input from the cast. From there, it was — for lack of a better word — different to hear Stacey Dash or Kimberly Guilfoyle, who aren't anchors, pose various questions about the situation to their primary news anchor. But after a few minutes, Smith seemingly became annoyed to be dragged into an opinion show, where perspective and punditry (mixed with a little speculation) is usually the standard recipe.
Here's one example of what happens when a passionate pundit asks a serious reporter a politically-charged question:
ERIC BOLLING: "We could spend our time watching this and reporting on it as we have street after street after street…I don't know….it might be a nice idea, nice timing for one of the higher profile civil rights leaders who tend to come in after the fact and say, 'Look how bad things are with the police officers.' But (instead) if they come in right now and say: "Hey, let's call for peace and have some calm here."

SMITH: [With a hint of sarcasm] "I'm confident they are all watching and upon your instruction… do exactly that. What we really need now is for it not to get dark before police get control, and if what they have is 42 state police and then 40 more to add to the city of Baltimore, that's not what is going to happen."
That exchange was fairly tame when compared to what went down between Greg Gutfeld and Smith:
SMITH: "Are there big problems in that community with lawlessness? There are. The people who were there will tell you that's about poverty and lack of opportunity and being put down by the man. That's what they have said all along. If we want to turn this as a nation into something that will rile up the races, we can do that. When you get to this point where eight days later after a man dies, people feel like they have a license to ill. Today they took that license to ill…and we can only hope that police officers and juveniles don't end up dead."

GUTFELD: "That sounds really disturbing to me. It's almost as though you're justifying this action."

SMITH: "I am in no way justifying this. I'm looking at history."

GUTFELD: "I don't forget history. This is really ugly right now."

SMITH: "It is ugly. And history tells us when a group of people feel so helpless…"

GUTFELD: "They don't riot when they feel helpless! Not everybody riots, Shep!"
Remember: Smith isn't a pundit or politician, he's an anchor who should have never been put into such a conversation with Bolling and Gutfeld, who were simply doing what they're paid to do: Opinion. And opinion is something that has its time and place.
This was not one of those times.
Fox should have stuck with Shep and their reporter on the ground (Doug McKelway) and let the "News Deck" serve its purpose while giving The Five the afternoon off. Or…let the Five do their thing while tossing to Shep periodically with updates throughout the show.
But by mixing Fox's hard news page with it's op-ed page, it did itself no favors in terms of informing its viewers while simultaneously waging an internal food fight between those with distinctively different roles for millions to be privy to.
Watch below, via Fox:
— —
>> Follow Joe Concha on Twitter @JoeConchaTV
This is an opinion piece. The views expressed in this article are those of just the author.