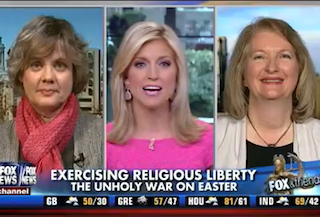 This year's War on Easter coverage on Fox News came to a head this morning when Fox & Friends contributor Ainsley Earnhardt pitted an atheist and a Christian against each other for a heated debate over the Freedom From Religion Foundation's right to post "anti-Easter" signs alongside the giant cross and resurrected Jesus monuments in Chicago's Daley Plaza. "Has Easter evolved into an occasion to demean religious beliefs and Christianity?" Earnhardt asked at the top of the segment.
And what are those "anti-Easter" images? Quotes from America's Founding Fathers, Thomas Jefferson and John Adams, reading "In reason, we trust" and "Keep state and religion separate," respectively. Here's what they look like in context: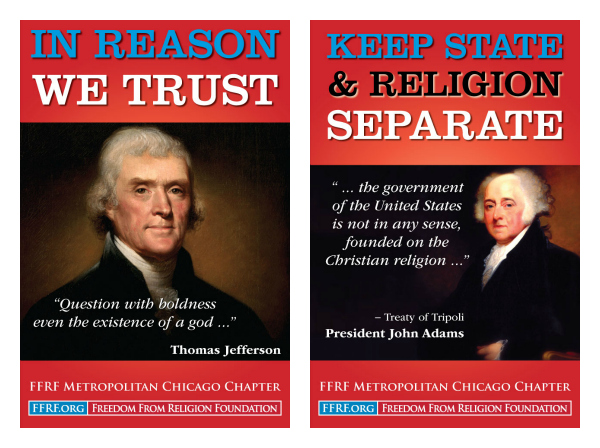 And here's the imagery the foundation is attempting to counter: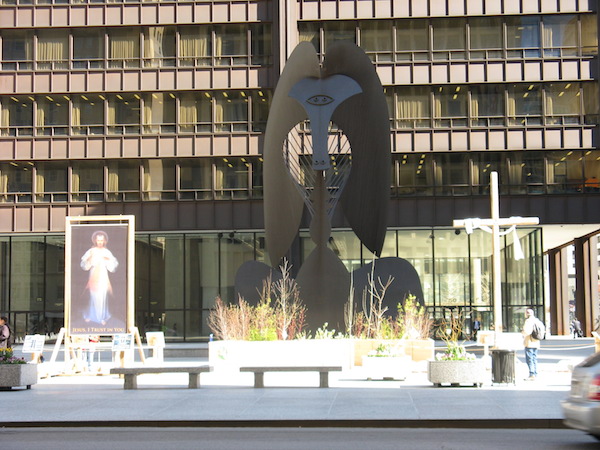 Asked why her organization is going to so much trouble to counter the religious display in Chicago, Freedom From Religion Foundation Co-President Annie Laurie Gaylor said that since the group believes in the separation of church and state, if the city is going to allow the cross and Jesus to be there, they want their side represented as well.
On the other side of the argument was Faith and Freedom Foundation Deputy National Field Director Virginia Galloway, who said she thought it was "kind of sad" that during this week of religious celebration "we are attacked and denigrated." She said, "They certainly have a right, a constitutional right to express their opinions and many good people have fought and died for that right for them as well as us, and I appreciate that."
"But at the same time, it just seems kind of without class, kind of like the Westboro crowd and the things that they did," Galloway continued, evoking the Christian protest group best known for picketing funerals with signs that say things like "God hates fags." She added, "Sure, maybe they had a right to do it, but it just seems very wrong."
Rather than question Galloway's analogy, Earnhardt seemed to agree, asking Gaylor, "What about manners here?"
"There is no bad manners in celebrating our secular Constitution," Gaylor replied. "We have a patriotic red, white and blue display with John Adams and Jefferson in Daley Plaza."
After some more back and forth between the two guests, Earnhardt ultimately cut off the conversation for a commercial break. But before she ended the segment she told her two guests: "God bless you both."
Watch video below, via Fox News:
[h/t Raw Story]
[photos via screengrab/FFRF/Thomas More Society]
— —
>> Follow Matt Wilstein (@TheMattWilstein) on Twitter
Have a tip we should know? tips@mediaite.com