Fox Host Gregg Jarrett Gets Frustrated With Romney Adviser's Non-Answers On Tax Plan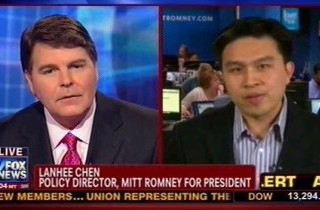 Friday morning on Fox News, host Gregg Jarrett repeatedly challenged Mitt Romney's policy director Lanhee Chen to clarify which tax loopholes and deductions the Republican presidential candidate would plan to eliminate. After Chen failed to answer the question several times, Jarrett became frustrated and openly challenged the policy director to give a response.
Jarrett surmised that Romney doesn't have stronger poll numbers, despite the weak economy, because voters don't know exactly what is in his tax plan. "He's not saying which of the loopholes and deductions and credits and exemptions he wants to close. That is huge. That's significant. How can he not tell the American people those facts?" Jarrett pressed Chen.
"Well, let's back up for a second," the policy director responded. "This is a race about two dramatically different philosophies. The president is out there saying he's going to raise taxes, he's made no mistake that he's campaigning on a platform of higher taxes. […] As you've said, [Romney/Ryan are] going to get rid of some of this underbrush, some of the deductions and some of the exemptions that are clouding our tax code."
"But why won't he explain how much, and which ones, and by how much?" Jarrett asked.
"Well, you know, a number of different bipartisan commissions over the years have told us exactly how we get there," Chen responded. "The key is presidential leadership, and that's something that's been lacking. That's something that Governor Mitt Romney is going to provide in the White House," he continued.
Clearly frustrated by Chen's responses, Jarrett then became clear in what he was looking for: "But Mr. Chen, forgive me, you're just not answering my question. So let me put it again: which loopholes and deductions and credits and exemptions the president's going to get rid of would affect all Americans. Before they cast their ballot, don't they deserve to know which ones are going, which ones are not, and by how much?"
"Governor Romney's been very clear that first of all we're going to look to curb deductions for high-income taxpayers," Chen replied. "And secondly, a lot of different deductions and exemptions are out there, we've got a lot of different ways to get there," he concluded.
Watch the exchange below, via Fox News:
— —
>> Follow Andrew Kirell (@AndrewKirell) on Twitter
Have a tip we should know? tips@mediaite.com