Fox Religion Panel Gets Heated When Catholic Insults Atheist as 'Unintelligent'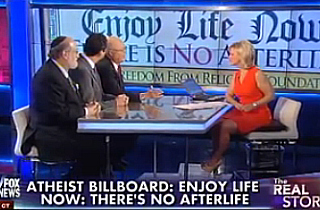 It's Thursday on Fox's The Real Story, so you know what that means: Time to bust out the jokey "an atheist, a Jew, and a Christian walk into a bar Fox" lede graf. This time, Gretchen Carlson's religion panel went head-to-head-to-head over an organization's billboard declaring there to be no afterlife.
The billboard in question, sponsored by the Freedom From Religion Foundation, reads: "Enjoy Life Now. There Is No Afterlife." American Atheists president David Silverman unequivocally praised the message as "the truth" and one that encourages people to pass a "good legacy" onto their children. "Take care of your fellow man because God is not going to do it," he added.
In return, Catholic League president Bill Donohue took the opportunity to stab at Silverman's brainpower, suggesting that only "intelligent" people understand that there is a "higher being." When the atheist called him out for the insult, Donohue retorted: "I'm not sure how much intelligence there is to insult."
Donohue then went on a rant against Silverman's organization using images of Jesus Christ wearing a crown of thorns to criticize the religion. "If you want to say you believe in nothing, I say you could," the Catholic panelist added. "I know you stand for nothing, I know you're good for nothing, so we agree!"
Rabbi Aryeh Spero, however, took a much less combative tone, rattling off several platitudes about living righteously and elevating yourself to a level of dignity while on this earth.
When the topic turned to outcry from religious organizations over the demonic nature of Halloween, all three panelists seemed to agree that the controversy is silly and little children should enjoy the holiday if they so choose. The agreement was so stunning, in fact, that Silverman declared this to be one of the few, if only, times he'll ever agree with Bill Donahue.
"There is a God!" Donohue shouted.
Watch the segment below, via Fox News:
— —
>> Follow Andrew Kirell (@AndrewKirell) on Twitter
Have a tip we should know? tips@mediaite.com