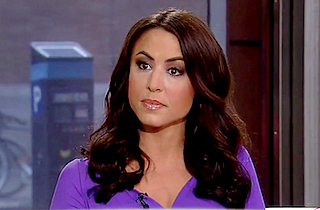 After sidelined Fox News host Andrea Tantaros claimed Monday that she was being punished by Fox for making sexual harassment allegations against then-CEO Roger Ailes, a number of Fox News sources came forward to challenge her claim.
One Fox source tell's Politico's Hadas Gold that Tantaros made complaints against other Fox employees, but never mentioned Ailes until her statement Monday. "The source with knowledge of the legal proceedings denied that Tantaros ever complained about Ailes to [Fox News Senior EVP of Programming Bill Shine] or Fox HR, saying she made complaints about others, a mix of Fox employees and guests, which the source said was investigated," she reports.
That source sticks by what Fox initially claimed, that Tantaros was suspended over because the network was unhappy with her rollout of her newest book. "The first time Fox heard she was about to publish a book was when she held it up on her television show. Fox didn't approve of the title, 'Tied Up In Knots,' Fox didn't approve of the cover showing her in a submissive pose, which is hardly the type of image Fox wants its female on-air hosts to be sent to the world."
Buzzfeed likewise reports that Tantaros made four allegations against male Fox employees which were being investigated thoroughly, but not against Ailes. In a March 2016 letter to Fox obtained by Buzzfeed that supposedly outlined the incidents in question, Tantaros never mentioned Ailes.
Fox bigwig Bill Shine also issued a statement on the record denying that Tantaros mentioned Ailes. "Andrea never made any complaints to me about Roger Ailes sexually harassing her," he said through a spokesman.
[Image via screengrab]
——
>>Follow Alex Griswold (@HashtagGriswold) on Twitter
Have a tip we should know? tips@mediaite.com