Fox's Gregg Jarrett on Alcoholism Recovery: I Wouldn't Be Here Today if Not for Roger Ailes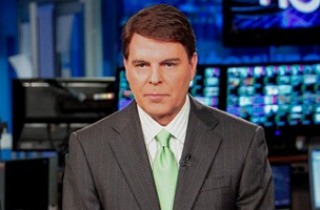 In an interview, Fox anchor Gregg Jarrett opened up about his struggle with alcoholism, which became public after his arrest in a Minnesota airport after leaving a rehab facility. Jarrett returned to Fox in December, and told TVNewser that his boss, Fox News chairman Roger Ailes, was the driving force behind his comeback.
"Roger Ailes was the first person to step in and come to my rescue," Jarrett said. "I don't want to sound overly dramatic, but I don't think I'd be here today if not for Roger. You know, alcoholism is an insidious disease, and it is quite often a fatal disease. People drink themselves to death, especially when they are in such despair over it."
Jarrett first went on leave in May of 2014, and as he retells it, it was one of the most difficult decisions he'd ever made:
Jarrett went to Fox News chairman and CEO Roger Ailes and had what he describes now as one of the most difficult experiences of his life–telling Ailes what he is saying now publicly for the first time. "I couldn't deny it any more. It was too obvious. It was the first time I'd ever said 'I'm an alcoholic.'"

"I'd lost all respect for myself," Jarrett said. "When you become so abidingly ashamed of what you've done or become, then it's very hard to turn the corner. I was in denial about my alcoholism for so very long–for many years, denial to my friends, my family, most of all my denial to myself. As it began to spiral out of control, I knew, but I couldn't seek help. I was too embarrassed. I was too afraid that others would find out."

But in Ailes–invariably described as "combative"–Gregg Jarrett found neither judge nor executioner, but rather, a man committed to getting Jarrett help. "He treats everybody as family," Jarrett said.
Ailes encouraged Jarrett to seek treatment in rehab, and even when Jarrett relapsed in a very public manner — culminating in an arrest in a Minnesota airport, and a video and mugshot that went viral — Ailes continued to stand by Jarrett, hiring lawyers to take care of his case, getting him checked into the Betty Ford clinic, and ensuring that his paychecks kept going to his family: "Roger assured me. He said, 'we can beat this'. Not you can beat this. We can beat this."
After months of treatment and a gradual return to Fox, Jarrett began anchoring shows again in January, and while he admits that his anchoring skills are "rusty," he says that he's never felt healthier:
At one point, Jarrett asked the boss flatly, "why didn't you throw in the towel?" Ailes had told people inside Fox News that he refused to "give up on Gregg." Now, Jarrett wanted to know why. "I'll always remember it," Jarrett recalled. "He said, 'not only is it the Christian thing to do, but more importantly, it's the right thing to do.'"
[Image via screenshot/Fox]
—
>> Follow Tina Nguyen (@Tina_Nguyen) on Twitter
Have a tip we should know? tips@mediaite.com