Fox's Kimberly Guilfoyle Talks to Mediaite About Life, Loss, and Dealing with Her Critics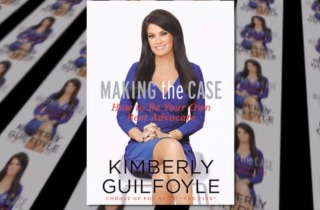 You may know her as one of the co-hosts of Fox's The Five, or even occasionally as a host of Fox & Friends, but long before Kimberly Guilfoyle was a TV news pundit, she was a Bay Area prosecutor, where she set out to advocate for victims of violent crimes.
Both of her careers were inspired by heartbreaking loss during her childhood, and the important lessons she learned thereafter. In her new book, Making the Case: How to Be Your Own Best Advocate, Guilfoyle seeks to impart some of that wisdom upon people who are in need of help with tough situations or uncomfortable transitions.
We talked to Guilfoyle by phone about the book, her life, and her current gig at Fox News. Read below:
—
This book, and much of your career, you say, is inspired by the lessons from your childhood. Explain that a bit for our readers…
My mother was just everything to me, I loved her so much, I always wanted to be around her. I loved how I saw people react to her. She was a warm woman who worked in education with people with emotional challenges. I got my sense of giving back and how when you have many blessings, pay it forward. One of the reasons I wrote this book.
I had to go through, a lot to be able to heal, going through her illness — she passed away from Leukemia when I was young — and how it affected our little family. I decided if I can make it easier for someone else to deal with rough transitions, then I can make my parents proud.
The key lesson for me: Don't make this life about you, it's about other people. I've tried to live my life in a way that respects the beliefs of my mother and father. They sacrificed a tremendous amount for me to be able to do what I do today.
And your father?
Well, the title Making the Case is essentially about my father. He was the best coach in my life. I was a little shy and introverted, and he wanted me to be the woman who would stand on her own two feet and have the self-esteem and stand for myself, no matter what. Even if I was the only one left. He taught me that anything a boy can do, you can do better.
And he had a tough-love attitude, where if I wanted to do something or go on a class trip, he'd make me make my case. I'd have to present my arguments, and he'd tell me if I had permission or not.
It teaches you not to be afraid of a no. Literally, the night he died, he looked at me and he said "No regrets." Was his life perfect? No. No one's is. What's more frightening is that people don't even try. Don't even try and put themselves out there. And do it in a meaningful way.
You should pass knowing you've left nothing on the table.
Which is a key theme of the book as well, right? Far too many people fear rejection and so they sell themselves short…
Our own fears and insecurity trap us. Does it feel good to fail or get rejected? No, but what can you learn? Always look to become a better person. Think about it as chapters in your life — don't be afraid to cross the threshold, walk through the door and see what's on the other side.
Before you were in TV, you were a prosecutor. I assume the lessons from your parents inspired your decision to get into that field…?
I was raising my little brother since he was 8. It made me a better mother, better person. But it hasn't been about me for a very, very long time. When you're forced to survive, you learn to navigate for yourself and advocate for others.
I became a prosecutor because I got my greatest joy in working with victims of violent crimes. I understood that profound sense of loss, and I could relate to it, and I wanted to do anything to help them heal by seeking justice. Wanting to make sure the person who wronged them or their family, that there would be closure. It's so hard when you have a family member pass away, like cancer, it's debilitating. But are you going to be mad at cancer? No.
And now you're a famous TV pundit and host. Why write a motivational book? Everyone else in your business seems to be writing about politics. You went the opposite…
I tend to make my own path. This was the best way I can give back. People have a lot of opportunity to choose what books to read and I wanted to give something that has value added. I wanted to give readers something worth their while for investing in me. Yes, it's autobiographical in nature, and it's by no means political. It's an advice book, pure and simple.
Much of the book talks about dealing with frightening interviews or other professional situations. In your career, you've probably had some awkward ones. What was your first interview for a TV job like?
In the book, I describe an important interview I had with Court TV. I heard that a position was coming up after Rikki Klieman was moving to Los Angeles, so that was a co-host position with Vinnie Politan on Both Sides. I ended up getting the job, but it was fascinating because I was temporarily in New York doing some analysis, doing TV spots, and I was supposed to be on Catherine Crier's show. But while I was in town, there was the huge power outage of 2003, and I was determined to get to her studio no matter what.
You couldn't even get a car, and the heat was oppressive. But I made a bee line for the Court TV studio and walked the whole way because they needed me! When I got there, the lights were still out, and only upper management was there, so I went to the secretary and asked to see the CEO Henry Schlieff. I just said I've got a few minutes and I'd like to say hi. I walked into the CEO's office, and when Klieman's move came up, I immediately began making the case for myself as her replacement.
Well, he hired me and gave me the job. It's that type of thing. This was my shot, and I was not going to blow it. I wasn't going back to San Francisco without having done that. I wasn't going to be in New York very long, Court TV didn't go on-air because of the power outage so, hey, I'm here because I've got to make it count.
I always say God helps those who help themselves. If you've been blessed with the ability and skill set of effective communications — I used to try major cases without notes — then do something with it. Television always felt like second skin for me — I don't get nervous on camera — so I made my case.
And that was essentially a mid-life career change — another difficult life transition you offer a lot of advice for in the book as well…
I know by no means is it easy to put it all on the line, but some of the greatest moments of our life come in our moments of valor. And that's why I explain other lessons that tie into that: Spouses need to be supportive.
Right, you wrote about how respectful relationships matter, even in divorce. You you still have a good friendships with your ex-husbands…
As with most things, put all your effort in. And don't be afraid to say perhaps this isn't working. I know that from having lost two of the greatest human beings in my life. I would trade any success to have them back. And that's why I really try to make everything count.
With marriages, people can take the easy way out and grow apart. Or you can show respect and loyalty and that's what I've tried to do in all my relationships. I leave no friend behind. I work had and strive to give time to people in my life who've counted on me in the past. I like to be your best friend, toughest advocate.
My second husband, Eric Villency, is the father of my beautiful boy Ronan Anthony. Even though we're divorced, I'm still very close with his family. Even when people don't stay married, they can still be a family together. That's been something that's been really good for developing me as a person. It's been a very positive learning experience. When you go through divorce with children you don't make it about you, make it about that child. Eric and I both want a positive environment for our son.
Last question: You write a lot about standing up for your ideas. With that comes criticism, of course. You face a lot of it as a prominent face on Fox News. Just last week you were a central focus of Larry Wilmore's critique of how your show, The Five, defended the alleged Baltimore police slowdown…
The positive way to look at it: I'm glad they're paying attention. I'm glad they are listening to what I'm saying.
I've been in a lot of tough businesses: First Lady of San Fransciso, working as model, actress, TV host. You better have thick skin, for sure, but you also need to laugh at yourself. I make fun of myself all the time.
I don't mind people writing about me. Personal attacks are different, but political arguments? I'm putting myself out there on a daily basis. I'm giving my opinion. So it only makes sense that others might differ and will criticize me.
—
Watch a Fox video package on her book, below:
And as a bonus, here's Guilfoyle showing off her dance moves on The View:
— —
Have a tip we should know? tips@mediaite.com