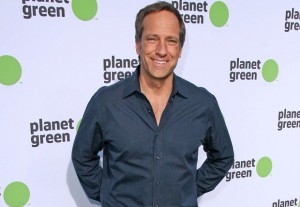 Former Dirty Jobs host and current star of CNN's Somebody's Gotta Do It Mike Rowe is fairly active in two distinct ways — trade activism, and social media. For the former, he boasts the mikeroweWORKS organization to promote trade jobs. As for the latter, you can find him regularly posting on his Facebook page.
Like this recent letter he received from Craig P., a supposed fan who read "right-wing propaganda" into Rowe's constant campaigning for trade jobs. Rowe posted the letter on Facebook:
Your constant harping on "work ethic" is growing tiresome. Just because someone's poor doesn't mean they're lazy. The unemployed want to work! And many of those who can't find work today, didn't have the benefit of growing up with parents like yours. How can you expect someone with no role model to qualify for one of your scholarships or sign your silly "Sweat Pledge?" Rather than accusing people of not having a work-ethic, why not drop the right-wing propaganda and help them develop one?
He then responded to Craig P. point-by-point in the hopes of bolstering his organization and the trade activism he sincerely believes in, while also calming the fan's (and, presumably, others') political woes. First, Rowe explained his position in as neutral terms as possible:
For the record, I don't believe all poor people are lazy, any more than I believe all rich people are greedy. But I can understand why so many do.
The CNN host went on to explain why he started the mikeroweWORKS organization, emphasizing that he wants to "shine a light on a few million good jobs that no one seems excited about." What Craig P. saw as propaganda, notes Rowe, is just his effort to demonstrate "that real opportunity still exists for those individuals who are willing to work hard, learn a skill, and make a persuasive case for themselves."
As Rowe concludes his response, he gets to the meat of his own pro-work argument with a set of oft-repeated ideas in his past posts and media appearances:
We're churning out a generation of poorly educated people with no skill, no ambition, no guidance, and no realistic expectations of what it means to go to work.
Whether or not Rowe agrees, the argument that many of the concepts behind his efforts are political is a valid one. That, or at least they're easily politicized by those who don't necessarily share Rowe's same penchant for trade jobs — beyond votes in an election.
Even so, it was nice of Rowe to give Craig P. a well-thought, organized and cordial response. He even offered to send him an autograph.
[h/t The Blaze]
[Image via Shutterstock.com]
— —
>> Follow Andrew Husband (@AndrewHusband) on Twitter
Have a tip we should know? tips@mediaite.com