Fragile? Keith Olbermann Tells David Letterman He's A $10 Million Chandelier – Updated Full Segment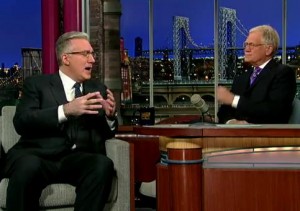 On the heels of his firing from Current TV, former Countdown host Keith Olbermann makes his mildly-ballyhooed first appearance on CBS' The Late Show with David Letterman. In a preview clip, Olbermann rehashes his passive-aggressive "It was my fault for not knowing everybody but me sucks" apology, and compared himself to "a $10 million chandelier" that Current TV "should have a house to put it in."
He also revealed that he began looking for an escape pod within ten days of his show's debut.
Tonight's appearance is supposed to be Olbermann's response to all the information that Current has put out (and leaked) about the firing, but from this preview, he's not putting up much of a fight. Aside from that chandelier analogy, which leaves out the fact that the chandelier also had a stake in the house, and could have gone easy on the Swarovski for the greater good, Olbermann pretty much lets on that he never intended to put in the hard work and patience he paid lip service to in the runup to his show's launch.
"You could bail out and say I'm getting out of this immediately,'" Olbermann told Letterman, "and trust me, I was thinking about that as early as like last July.  We'd been on the air about 10 days and they fired the guy who knew what he was doing who I worked for and I went, 'Uh-oh.'"
But he gamely hung in there with that "can do" attitude that had him recalling that, in September, he and his staff made up "Better watch now because things could go wrong in a hurry" buttons, or that same spirit that had him petulantly refuse to use the set Current designed to his specs because there was a lighting problem, or that hustle that had him miss 19 of 41 work days in January and February.
It looks more like Olbermann never really gave the new gig a shot. He liked the idea of being a big fish in a little pond, until he saw just how little the pond was (in part because the pond broke the bank to land him). Then, when Cenk Uygur started beating him with younger viewers, it turned out he wasn't even such a big fish. Although Uygur just started beating Olbermann in the 25-54 demo last Monday, he had been showing Olbermann up with younger viewers than that for months.
Although it was Current who pulled the plug, Olbermann's set histrionics, scheduling shenanigans, and extensive absences make it pretty clear he had checked out, like an overpaid free agent who suddenly decides he doesn't like playing for an expansion team, but can't get out of his contract. Olbermann told Letterman "The nice judge will decide whether or not I get more of my money," but it's hard to see what kind of a case he'll have.
Even the most casual observer, when faced with his gripe that the network wasn't spreading the cheddar around, would have to say "What did you expect?"
Olbermann went into this knowing that Current was pushing all of its chips (literally and figuratively) in on him, and that there would be some lean times for the network (not for Olbermann, who reportedly received about $50k per show) while they built their schedule, and their audience. Olbermann even acknowledged as much on a press call hyping the re-launch of Countdown, discussing the ways in which the network would work around its lack of resources with elbow grease and adaptability. For him to wake up a few months later and say "Where's the money, honey?" (even as his pockets were stuffed with it) smacks of bad faith.
Unfortunately, the folks who remain at Current will have to pay the price for Olbermann's lack of patience. I've heard some media critics opine that this will hurt Current's brand more than Olbermann's, but that is self-evidently not true. The last time Olbermann was fired, the story dominated traffic for weeks. This time, it has been barely a blip. Baseball fan that he is, Olbermann should remember that eventually, people even got tired of watching Billy Martin get fired.
Update: Here's the full segment, in which Olbermann talks about the lighting problems, claims one car service stopped coming because the bill "didn't get paid" (note the passive voice; according to sources at Current, Olbermann refused to sign a car service voucher at least once), and declines to trash Al Gore:
Have a tip we should know? tips@mediaite.com