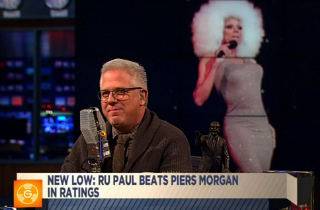 On his radio show this morning, Glenn Beck tore into CNN host Piers Morgan for losing to Logo TV's RuPaul's Drag Race.
"Shocking, terrifying, alarming, it is strong and it is serious," Beck declared in a mock-lisp, "Piers Morgan has been beaten by RuPaul."
Monday night's season premiere of the RuPaul-hosted drag queen competition show racked up 565,000 total viewers, beating out that night's episode of Piers Morgan Tonight, which garnered 545,000 total.
However, Morgan's show consistently ranks in the top two at CNN in total viewers and the key 25-54 demo.
Beck and his co-hosts remarked on how they'd forgotten RuPaul was "still alive," joking that "he's let himself go a little bit." Stu Burguiere noted, however, that the 52-year-old drag icon's arms are still toned.
"For RuPaul to beat Piers Morgan on Logo, when he's on CNN, and they're up against each other at nine o'clock eastern, that's a sign it's not going well," Pat Gray remarked. Beck added that the news is "satisfying" and represents a "death knell" for the liberal British personality's talk show.
The radio crew then took bets on how long until Morgan's show is canceled by CNN. Gray wagered "a year," Beck suggested "a month," and Burguiere simply cautioned, "I don't think they're going to pull the plug that fast."
Beck then guessed what could be going on in Morgan's mind: "He's saying, 'It's over. I'm going to be a laughing stock.' And he's falling on his sword right now, and what's he saying is, 'I'm going to fall on my sword on this gun control thing, and that way I can come out and the über-left will embrace me because I can say I took on the gun lobby. And that's what killed me. Not the ratings."
Watch below, via BlazeTV:
— —
>> Follow Andrew Kirell (@AndrewKirell) on Twitter
Have a tip we should know? tips@mediaite.com