Hannity And Panelist Get In Shouting Match With Muslim Guest Over Radical Islam: 'I'm Right And You're Wrong!'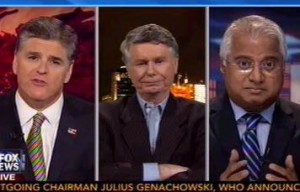 Sean Hannity tonight took on a Pew study with statistics on how many Muslims around the world support Sharia law, believe violence is justified, and think women should be subservient to their husbands. Hannity and radio host Bill Cunningham got heated with his Muslim guest, Mike Ghouse, over whether the numbers are an indication that "radical Islam is rising" all over the world, which Hannity also extrapolated to claim that it's only a matter of time before Sharia law comes to the United States.
RELATED: Politically Correct 'Pandering': Malkin Trashes Holder On Fox For Warning Against 'Stigmatizing' Muslims
Hannity challenged Ghouse, saying that he has kept denying that there is not a large movement within Islam that supports violence and Sharia law. Ghouse pushed back that many Muslims in other nations don't know anything other than Sharia law. Hannity interrupted and said there are unambiguous facts like how many Muslims in other nations support suicide bombings, declaring "I'm right and you're wrong!"
Cunningham told Ghouse that support for things like Sharia law and honor killings is what happens when nations like Egypt are given the democratic right to vote. He insisted that the Pew study is a "clarion call that we are at war," while Ghouse continued arguing against that very idea.
Hannity and Cunningham expressed their disgust with how widespread the support of subservience of women is in Islam, with Cunningham shouting at Ghouse, "Women are brutalized by Islam and you're not admitting to it!" Ghouse admitted there are flaws in Sharia law, and attempted to argue it is "not an Islamic thing" but a consequence of the situations in individual nations.
Hannity told Ghouse that he needs to "get [his] head out of the sand," and before Ghouse could get a word in, Cunninghman shouted at him to apologize, telling him "there's a radicalization going on that you're not admitting to!"
Watch the video below, courtesy of Fox News:
—–
Follow Josh Feldman on Twitter: @feldmaniac
Have a tip we should know? tips@mediaite.com
Josh Feldman - Senior Editor