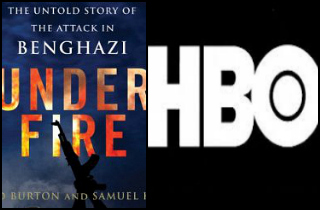 According to The Hollywood Reporter, HBO has optioned New York Times best-selling book Under Fire: The Untold Story of the Attack in Benghazi for a TV film, with Jerry Weintraub set to executive produce.

The recently-released book was written by Fred Burton and Samuel M. Katz, focusing on an inside look at the 12-hour standoff at the American consulate in Benghazi, Libya, that resulted in the death of four American diplomatic personnel.
More details from THR:
"I'm thrilled and excited that my next movie for HBO after Behind the Candelabra will be Under Fire. It is the only place I can imagine this tragic and emotionally gripping story being told," said Weintraub, hot off of his 15 Emmy nominations for his Liberace film starring Michael Douglas and Matt Damon.

The book, published earlier this month, has been billed as a heart-stopping narrative of the diplomatic mission's efforts to fend off and escape a terrorist attack on September 11, 2012, which resulted in the death of four, including U.S. Ambassador J. Christopher Stevens. Published earlier this month, Fire reveals the twelve-hour ordeal confronted by Stevens, Sean Smith, his Diplomatic Security contingent and the CIA security specialists who raced to rescue them.

The account is based on eyewitnesses and confidential sources within the intelligence, diplomatic and military communities. Adding credibility, Burton is VP of intelligence and counter-terrorism at Stratfor, a leading geopolitical intelligence firm, and is one of the world's foremost experts on security, terrorists and terrorist organizations.
— —
>> Follow Andrew Kirell (@AndrewKirell) on Twitter
Have a tip we should know? tips@mediaite.com