HillaryWatch: Last Week Cable News Spent More Than 400 Minutes on Hillary Clinton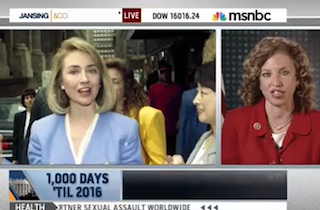 Have we aleady reached peak Hillary Clinton?
Mediaite's weekly study of the three major news networks' Clinton coverage, this week spanning Monday, February 10 to Sunday, February 16, found that cable news devoted 94 segments on former Secretary of State Hillary Clinton—who currently holds no office and has not announced a candidacy for one—for a whopping total of 410 minutes worth of coverage.

Le charts: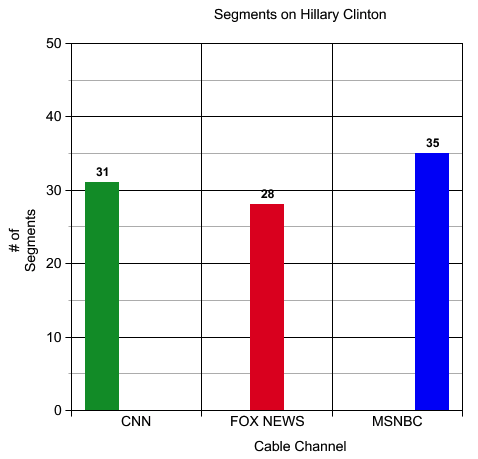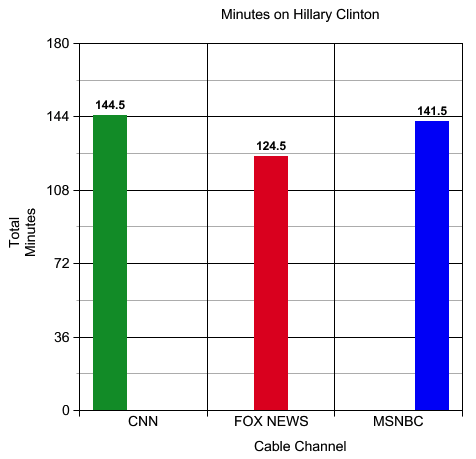 MSNBC devoted the most segments to Clinton, though theirs were the shortest, averaging just over four minutes. CNN narrowly edged out MSNBC on the total number of minutes, featuring much longer segments on Clinton's 2016 hopes, some running more than ten minutes. Fox averaged about 4.5 minutes per segment.
This week's totals represent sizable increases in both number of segments and amount of time devoted to Clinton over last week. This is due in large part to the release of HRC, a book on Clinton by Jonathan Allen and Aimee Parnes, and the unearthing of letters from Diane Blair's estate by the Washington Free Beacon. Both stories drove a substantial amount of the coverage, though a GOP report on Benghazi, Senator Rand Paul's (R-KY) repeated remarks about Bill Clinton, and General David Petraeus' semi-endorsement also contributed.
As last week, the nature of the segments varied by the network's ideological drift. Fox, for instance, was the only network to pick up on Charlie Cook's question of whether Clinton was too old to be president.
Methodology: The study counted any sustained discussion lasting more than thirty seconds and involving more than a passing reference to Clinton (thus excluding many of the Chris Christie segments that happened to reference her as a hypothetical election opponent); however, any on-screen graphic of 2016 poll numbers citing Clinton automatically counted as a segment. All repeats and show intros were excluded.
Reminder: Election day is 992 days away.
[Image via screengrab]
——
>> Follow Evan McMurry (@evanmcmurry) on Twitter
Have a tip we should know? tips@mediaite.com