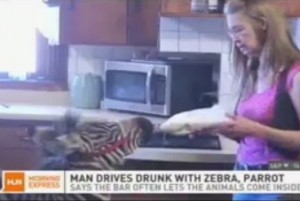 Today's cable news fluff filler du jour is the story of a man who was arrested for driving drunk with a parrot and a zebra. The story itself has a raft of amusing details, like the fact that the man, 55 year-old Jerald Reiter, drove the animals to a bar, but wasn't allowed to bring them inside, but HLN's Bob Van Dillen capped off Robin Meade's Morning Express report  on the misadventure with a well-delivered impression of the driver.
Let me start by saying that this story is only funny because this idiot didn't kill anybody. Drunk driving is a serious offense, and causes the worst kind of misery for the most thoughtless of reasons.
In fact, the seriousness of the crime lends a comical edge to the defense offered by Reiter's girlfriend, who told reporters that the animals are "like their kids," so, naturally, they should be included in drunken joyrides to the local watering hole.
The zebra refused to speak to reporters, explaining, "I'm a little hoarse."
Also somewhat amusing is a point of contention over the bar's policy regarding animals. From ABC News:
Jerald Reiter, 55, told police the zebra and maccaw parrot enjoy going for rides in his truck, so he brought them to the bar, which he says usually allows animals inside, ABC affiliate KCRG-TV reports.

When the motley crew got to the bar, they were told because food was being served, the animals wouldn't be allowed inside. Bar owners told KCRG no animals are ever allowed inside.
It seems Reiter is alleging that the bar would let the parrot and the zebra slide, as long as they were just drinking.
But it was meteorologist Bob Van Dillen who put the perfect bow on the story as Meade tossed to his Air Travel Update. Imitating the drunken Reiter, he said "Hey, I always wanted to know, are you black with white stripes or white with black strips? Oh no, it's the cops! Polly, take the wheel!"'
For what it's worth, ABC reports that Reiter disputes the charge:
Reiter also disputes the drunk driving charge, saying he realized he was too drunk to drive, and was about to let a passenger take the wheel when he was arrested.
Fans of Morning Express will be happy to learn that HLN is launching a later edition of the show, with the highly original title Evening Express.
Here's the clip, from HLN's Morning Express:
Have a tip we should know? tips@mediaite.com