Iranian President: 'Death to America' Chants Not Directed at American People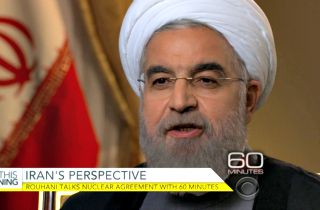 Iranian President Hassan Rouhani addressed the "death to America" threats that are often chanted by Iranians, telling 60 Minutes in an interview that the slogan is not directed toward Americans, nor meant to be against them.
"Our people respect the American people," Rouhani told host Steve Kroft in a previewed clip ahead of Sunday's show. "The Iranian people are not looking for war with any country. But at the same time, the policies of the United States have been against the national interests of Iranian people, it's understandable that people will demonstrate sensitivity to this issue."
Rouhani also invoked some history pertaining to the Iranian Revolution in the late 1970s, during which the U.S. supported the shah who was eventually overthrown by the Iranian people.
"When the people rose up against the shah, the United States aggressively supported the shah until the last moments," he added. "In the eight-year war with Iraq, the Americans supported Saddam. People will not forget these things. We cannot forget the past, but at the same time, our gaze must be towards the future."
The interview was Rouhani's first with a western journalist since the U.S. and other major powers agreed to a nuclear deal with Iran that, among other things, would place restrictions on Iran's nuclear program in exchange for the lifting of crippling sanctions. Senate Republicans failed on Thursday to get enough votes in favor of an amendment requiring Iran to recognize Israel as a state and release American prisoners in Iran, in a last-ditch effort to derail the agreement.
Watch the video below, via CBS News:
[Image via screengrab]
— —
>>Follow Andrew Desiderio (@desiderioDC) on Twitter
Have a tip we should know? [email protected]