Jeb Bush: 'I Don't Know What Was on the Mind or the Heart' of Charleston Shooter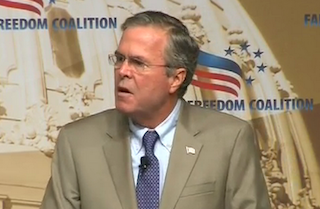 Jeb Bush ended up canceling a planned campaign event in Charleston, South Carolina on Thursday due to the deadly mass shooting that occurred in that city Wednesday night. But on Friday morning, he was back out on the trail, speaking at the Faith and Freedom Coalition summit in Washington, D.C.
The candidate opened his remarks with some words about the shooting, which took the lives of nine African-American churchgoers. I don't know what was on the mind or the heart of the man who committed these atrocious crimes," Bush said near the top of his speech. "But I do know what was in the heart of the victims."
Bush said the events had a "big impact" on him, adding, "I know that your hearts and prayers are with the families and the pastor who lost their lives and let's hope it never ever, ever, happens again."
But unlike President Barack Obama and Democratic candidate Hillary Clinton, Bush made no mention of the racial motives for the attack and offered no policy proposals to prevent mass shootings like this one from happening again.
And now, Bush is facing some heat from critics who believe that we do know what we in the shooter's mind and heart due to witnesses who specifically heard him say he was there "to shoot black people."
Pressed to explain whether Bush believes the attack was "racially motivated," his communications director said, "of course."
@samsteinhp @dceiver @sahilkapur Of course.

— Tim Miller (@Timodc) June 19, 2015
Watch video below, via C-SPAN2:
UPDATE — 12:27 p.m. ET: Despite Tim Miller's insistence that Bush "of course" thinks the attack was racially motivated, the candidate was more tentative in a follow-up interview with The Huffington Post's Laura Bassett.
"I don't know. Looks like to me it was, but we'll find out all the information," Bush said. "It's clear it was an act of raw hatred, for sure. Nine people lost their lives, and they were African-American. You can judge what it is."
[Photo via screengrab]
— —
>> Follow Matt Wilstein (@TheMattWilstein) on Twitter
Have a tip we should know? tips@mediaite.com