Jodi Arias Busts Out Slideshow, Charity T-Shirt While Pleading Against Her Possible Death Sentence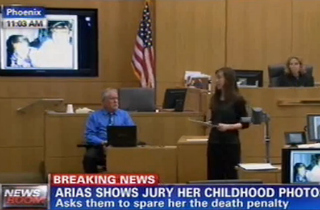 On Tuesday morning, convicted murderer Jodi Arias pleaded with the jury one final time before they deliberate whether to sentence her to death for the 2008 killing of her ex-boyfriend Travis Alexander. Pleading with the court to spare her life for the sake of her family, Arias busted out a photo slideshow, quoted Charles Dickens, and used props like a tee shirt and her artwork to make her case.
During a nearly 20-minute-long allocution, Arias explained to the jury that although she once told the media she prefers to die as soon as possible, she no longer wishes that upon herself or her family.
"I wanted to pull myself off life support," she explained before telling the court of her plans for contributing to society if given a life sentence to jail. Showing a photograph of her hair donated to the Locks of Love charity, Arias said, "If I'm allowed to live in prison, I will continue to donate for the rest of my life," adding that she has already donated her hair three times to the charity that makes wigs for cancer patients.
Arias also apparently has plans to start a recycling program at the local jail. "If I get permission, I could start a recycling program for the huge loads of waste taken to the landfill." She suggested the program would do more than just "green" up the jail: "It could create new jobs and have a far-reaching impact on the planet."
She also showed off a tee shirt she designed with the word "Survivor" printed on it, explaining her intention to sell the clothing and donate the profits towards a charity benefiting victims of domestic violence.
For most of her presentation, Arias used a projector machine to show off images of her life before the grisly murder, including her own childhood, family members, and previous relationships.
"Here I am with Bobby, in our dirty little house," she said of one ex-boyfriend. "We didn't have power or heat. In the winter we could see our breath. My parents didn't support this relationship. I'm reminded of that Charles Dickens quote, 'It was the best of times, it was the worst of times.'"
She concluded her remarks by pleading with the court to spare her life so that her family may not experience the same pain Alexander's family experienced upon his loss.
"Either way, I'm going to spend rest of my life in prison," she said. "It will either be shortened or not. If it is shortened, the people that will be hurt the most will be my family. Please don't do that to them. I've already hurt them so much and I want everyone's pain to stop."
Watch below, via CNN:
— —
>> Follow Andrew Kirell (@AndrewKirell) on Twitter
Have a tip we should know? tips@mediaite.com