Joe Arpaio on Trump's Immigrant Remarks: Not All of Them Are Rapists and Criminals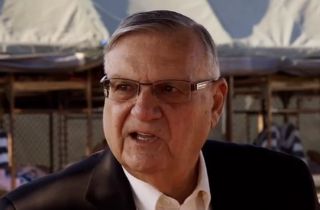 It cannot be denied that one of Donald Trump's most resounding campaign points is the idea that Mexico is sending criminals into the country, and that illegal immigrants must be expunged at once.
This inflammatory stance has drawn attention from a huge number of people, but it might be surprising that controversial Arizona sheriff Joe Arpaio is not squarely in Trump's corner.
Arpaio has developed a reputation over the past few years for his harsh crackdowns on immigrants, and keeping the "birther" movement alive. In an interview with Jorge Ramos on Fusion, Arpaio agreed that rapists and murderers were coming over, but said they do not make up the majority.
"I think Mr. Trump was frustrated at the many crimes committed in this country by those from Mexico, including coming across the border illegally––that happens to be a criminal offense," Arpaio said. "I don't think the majority of people from Mexico are rapists and murderers."
After saying he liked the concept of Trump's mass deportation ideas, Ramos pressed Arpaio on whether he truly supported the removal of 11 million people across the country. Arpaio said that he wasn't calling to knock down doors and forcefully remove them, saying that illegal immigrants won't be deported so long as they do not break the law.
"When you come across someone on a violation of the state law, local law, and they happen to be here illegally, yes, then you deport them — very simple," Arpaio said. "If the illegals don't get caught doing anything wrong, they're not going to get deported."
You can watch here, via Fusion:
[Image via Screengrab]
— —
>> Follow Ken Meyer (@KenMeyer91) on Twitter
Have a tip we should know? tips@mediaite.com