Joe Scarborough Defends G.W. Bush: We Won't Turn Him Into Cartoon The Way Media Has For Eight Years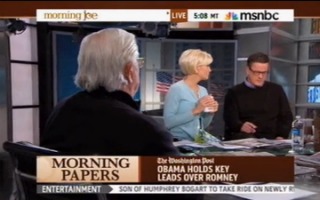 On Wednesday, the crew at Morning Joe invited on seasoned investigative journalist Carl Bernstein to discuss our recent history of war, particularly where former president George W. Bush is concerned.
Bernstein criticized President Bush's decision to enter into Iraq as well as our country's continued military presence in Afghanistan through the Obama presidency. "Look," he said, "this whole adventure has been a catastrophe for this country, beginning with the wrong response to 9/11 and also the economic consequences of the Bush presidency are unlike anything we have experienced in the last 30 years. So to give George Bush a pass the way we were just listening to, it seems to me–"
At that point, host Joe Scarborough cut in.
RELATED: NY Times Buries The Lede: Anderson Cooper's Ratings Surge At 8PM
"You know what?" he interjected. "We're not turning him into a cartoon character like too many people have in the past. We're actually taking a nuanced view of it. So nobody's giving George W. Bush a pass and nobody's been more critical of George Bush on spending. I've been critical of George Bush and his military adventurism in his second term… But it is a complicated legacy and historians are not going to turn him into the cartoon character that we in the media have other the past eight years."
Scarborough also pointed out that, all criticism aside, the fact remains that the U.S. has not sustained a terrorist attack under Bush or Obama since 9/11. "And who the hell," he asked the panel, "would have predicted that on September the 12th?"
Have a tip we should know? tips@mediaite.com