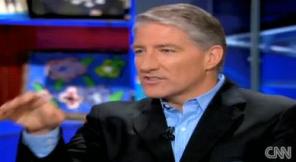 John King's ratings on his still-new CNN hit a low recently and have been fighting to see a slight uptick in both total viewers and the A25-54 demographic.
Well one new segment kicked off on yesterday's a show last week: "Anger In America." Sound familiar? Updated.
Although CNN.com labeled the segment as "Anger In America," which falls in line with CNN's various In America specials, John King, USA didn't call it that on air. But "Anger In America" sounds a lot like "America The Angry" – the short-lived 3pmET MSNBC show from Donny Deutsch that was over after just two days.
> Update: This was a segment that aired on Friday's show, and was the conclusion of the "Make Your Case" week-long segment at John King, USA, in which he asks viewers to weigh in on a single topic. Last week it was "Are you angry with your government?" So the discussion, although labeled "Angry In America" only represented Friday's "Make Your Case."
But CNN gave the topic a CNN-like twist. The segment kicked off with various iReport's from ordinary Americans talking about why they, personally, are angry. Coming out of the clip, King noted the balance. "Pretty fair representation of this mix of frustration and disaffection," he said, going on to ask about what it all means. "We're not quite sure how it impacts this election here, are we?"
The panel on King, USA included CNN senior political analyst Gloria Borger, Hotline's Amy Walter and senior congressional correspondent Dana Bash (unrelated: King's wife). Walter pointed to a recent Pew survey that found "In 2006, 20% of Americans said I'm angry with government. In 2010, it's 21%. So it's the same number of people, it's just different people."
But Borger noted far more people "don't trust government."
The CNN segment didn't keep the tone of Deutsch's version (no talk of MSNBC or Fox News in there), and included the usual CNN viewer participation. But documenting and discussing the "anger" in America shows two things: the idea behind Deutsch's show was an interesting, buzzy one, and John King, USA, with its focus on America as a whole (and not just inside D.C.) could become a platform for similar topics.
Here's part of the segment:

—–
» Follow Steve Krakauer on Twitter
Have a tip we should know? [email protected]