Jon Stewart Defends Hank Williams, Jr. From ESPN Censors: 'Have You Met Him?'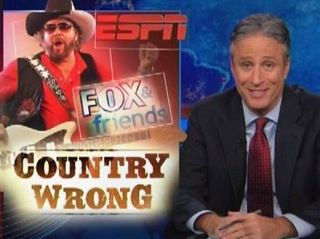 Football/country personality Hank Williams, Jr. may have gotten himself kicked off of his regular stint singing about football on Monday Night Football, at least for now, but while his comments didn't find much support, his right to say them have brought out some unlikely defenders. Take, for instance, Jon Stewart, who on the Daily Show tonight scoffed at his Hitler/Netanyahu metaphor as entirely incoherent, but found it surprising that ESPN took offense at him. "When he says something down-home and gritty," Stewart reminded his bosses, "that's what he's there for!"
RELATED: Hannity And Panel Gang Up On GOP State Senator For Denouncing Hank Williams, Jr.
Stewart began the segment by taking a quick stab at Fox & Friends— not for airing the comments, but for spending a segment an hour before Williams complaining that people cared about comments by Roseanne Barr. He noted that Barr was not too unlike Williams ("they both drunkenly married Tom Arnold"), and expected no harm from the comments other than what he considered routine morning Fox flip-flopping. But then ESPN took Williams off of their broadcast, which Stewart found shocking: "We count on it to gauge our nation's football readiness!"
RELATED: Ready For Some Football: A Liberal Defends Hank Williams Jr.
Stewart then turned to Williams' bosses, surprised that they thought it was weird Williams was putting together weird metaphors that made little sense given his reputation. "He's been at ESPN for 23 years," Stewart noted, "Have you met him?" He then went into a list of reasons ESPN should have seen this coming– "he's got a song about how things would be better if the South had won;" "when he talks, I can smell the Jack Daniels on his breath from the television"–
The segment via Comedy Central below:

Have a tip we should know? tips@mediaite.com