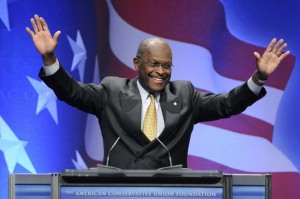 The Republican presidential race has taken a stunning turn, as the latest CBS News poll shows upstart candidate Herman Cain tied with Mitt Romney for first place, at 17%, and former frontrunner Gov. Rick Perry disappearing in the rear view mirror at 12%. Like the fabled 1969 "Miracle Mets," Cain has long enjoyed the adoration of supporters who didn't think he could win, but with this latest round of polls, and Chris Christie out of the way, it looks like we've got ourselves a pennant race.

Even if you assume this poll is an outlier, Cain has done well in two other recent polls, going from a close third to Perry last week, to sharing second place in an ABC News poll, and leaving Perry in the dust in a Quinnipiac poll. Romney's support has been flat in those two polls, at 25% and 22%, respectively, an indication that Cain's gains have, so far, come at the expense of falling stars like Perry and Rep. Michele Bachmann.
The conventional wisdom here is that these polls are more about Perry than Cain, and that this is all good news for Romney. Herman Cain, the reasoning goes, will wither under the newly intense scrutiny that attends the top of the pack. I'm not so sure about any of that.
If you take all of the energy that has surrounded candidates like Perry, Bachmann, Donald Trump, or Sarah Palin, at one time or another, they can't touch the fervor for Cain. His biggest problem with the conservative base has been his unlikelihood to actually win. In 1969, everybody loved the Mets, but there probably weren't too many people putting money on them until they actually made it a race. Cain is on the kind of winning streak that can make believers of the conservative base.
Romney is actually in big trouble here. As former Obama spokesman Bill Burton never stops reminding him, "They're Just Not That Into You." The neverending parade of gunslingers that the GOP townspeople keep bringing in to face Romney is stark evidence that they really don't want him to be the sheriff. Mitt got lucky in the last debate, when Rick Perry shot himself in the foot by having reasonable positions on immigration and vaccination, and fatally invoked the least popular organ in conservative politics, the "heart."
Cain has no such weaknesses, and is in a position to really damage Romney at the upcoming Washington Post/Bloomberg debate. Romney's strength as a general election candidate will do him no good here, and while the debate's focus on the economy seems to superficially benefit Romney, his record as Governor of Massachusetts is vulnerable to attacks that will resonate with the base.
Cain, on the other hand, has brilliantly harnessed the conservative love of simple messaging by fitting the entire tax code on a bumper sticker, with room to spare. His 9-9-9 plan has faced heavy criticism from economic experts, but on the basis of two "R"s that mean little to Republican primary voters: revenue and the regressive nature of the tax. That's like telling a teenager that the plan is too damn loud, and it all sounds the same, dagnabbit!
Political media types also don't spend enough time with the conservatives who drive their movement from the ground up. I do, and I can tell you that, of all the subjects I have discussed with them over the years, anything that remotely resembles a flat tax is like Spanish Fly mixed with green M&M's and Ecstasy.
With Perry sinking like a stone, and Cain on the rise, Romney is going to be like that poor little goat tied to a post in Jurassic Park, waiting for some T-Rex to come gobble him up. Cain's rise in the polls should see him get a lot more screen time, so he really needs to gear up for the big game. Even if he can't pick off much of Romney's support, his surge in the polls and straw poll winning streak could cause voters from the rest of the field to crystallize behind him, and give him a solid lead on Romney. From there, it's his game to lose. You gotta believe!
Have a tip we should know? tips@mediaite.com