Judge Napolitano Calls Out Officials' Contradiction In Delaying Suspect's Miranda Rights: 'Can't Have It Both Ways'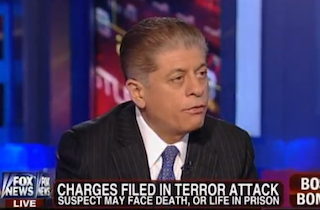 Judge Andrew Napolitano joined Fox News host Shepard Smith on Monday to discuss the new developments surrounding the Boston Marathon bombing and suspect Dzhokhar Tsarnaev. Specifically, Napolitano called out the apparent contradiction with officials delaying reading the suspect Miranda rights, while simultaneously insisting the public is no longer at risk.
Now that he's been charged, Napolitano informed that the current criminal complaint isn't the one on which he'll be tried, but is sufficient to keep him in jail. We've yet to get an indictment from a grand jury, he added, which will charge him with more than just the two crimes in the current complaint.
The pair then moved on to the hot-button issue surrounding this story, which is that the White House has said they will not treat Tsarnaev as an enemy combatant. Since the suspect is a citizen, Napolitano asserted, for the designation of enemy combatant, there would need to be "unambiguous evidence of his being affiliated with a foreign group." According to a whole host of officials, however, "there is no such evidence."
Smith pressed further on the Miranda rights aspect of the issue, and waiting to read the rights using the public safety exception. Asked whether the waiting time has passed, Napolitano noted that those same officials have also said "Boston is back to normal," that there's no longer a pressing public safety concern.
"They can't have it both ways," he contended. The purpose of the exception is to protect the officers and those around the suspect at the time of the arrest, he further explained. It is not meant to "find a way around" reading the rights.
Take a look, via Fox News:

Have a tip we should know? tips@mediaite.com