Kathleen Sebelius to Congress: 'I Would Suggest the Website Has Never Crashed'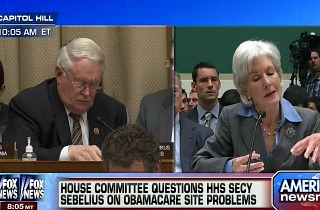 Health and Human Services Sec. Kathleen Sebelius sat down before the members of the House Energy and Commerce Committee on Wednesday to explain why the roll-out of the Affordable Care Act has been so problematic. When discussing he issues that HealthCare.Gov is facing, Sebelius said that she would contend that the website "has never crashed."

Sebelius began by informing Rep. Joseph Pitts (R-PA) that she was able to create a "light account" on the ACA's federal health insurance exchange portal in order to experience what the public was dealing with. She did not, however, enroll in the exchanges because she already has health insurance.
RELATED: Sebelius Testifies on Obamacare Website: 'Hold Me Accountable for the Debacle'
"The initial website crashes appear to be largely a result of the decision to prevent browsing of the plans," Pitt said. He added that a browsing feature was disabled in order to ease site access. Sebelius said that she was not aware of this decision.
"I was aware that we were paring back some features to not put additional risk on the website, which seems ironic at this point," Sebelius said.
"Do you know why that was made?" Pitt asked.
"We were anxious to get the website up and running and functional, which we clearly have failed to do," Sebelius replied. "Although I would suggest the website has never crashed. It is functional but at a very slow speed and low reliability."
Watch the clip below via Fox News Channel:
[Photo via screen grab ]
— —
> >Follow Noah Rothman (@NoahCRothman) on Twitter
Have a tip we should know? tips@mediaite.com