Kennedy: Female Co-Author of Study on Smart Women May Have 'Hard Time' With Men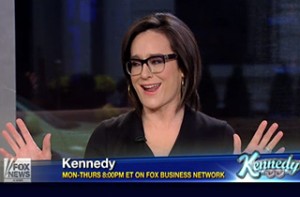 The hosts of Fox's Outnumbered today dissected the claim that "men are threatened by smart women," citing a recent study that concluded men are "initially enticed by the idea" of a strong, successful woman, but "actually may not want to date them because of it."
Co-host Andrea Tantaros said the study, published in Personality and Social Psychology Bulletin, had some merit to it. "If you look at men's magazines, they'll give you ten tips on how to pick up a hot woman at a bar, but they never give you ten tips on how to handle a strong, smart, successful one," Tantaros said.
Guest Charles Payne concurred, saying, "I do agree with this study, I think men are intimidated by women who are smarter than them, and make more money than they do."
But Kennedy had a dissenting perspective on the findings, suggesting the study may be flawed because "one of the co-authors of the study is a woman, who is conceivably an academic with a PhD, who has maybe had a very tough time meeting gentlemen in her life."
She opined that the conclusion could be the result of a confirmation bias. "I'm not saying that I know the woman or know anything about her," Kennedy said, adding, "I'm just imagining that there might be cats, there might be reruns of Ally McBeal."
"She's using the study as confirmation why she's having a hard time knocking it out of the park with men," Kennedy said.
Watch the video above, via Fox News
[h/t Raw Story]
[Image via screengrab]
—
>> Follow Elizabeth Preza on Twitter (@lizacisms)
Have a tip we should know? tips@mediaite.com