Krauthammer Slams Romney Over Olympics Comment: 'Unbelievable,' 'Incomprehensible'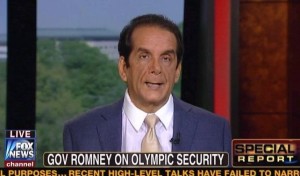 On Fox News earlier, Charles Krauthammer criticized Mitt Romney for his comments saying that all the problems facing the London Olympics feel "disconcerting." Romney made the comment in an interview last night with Brian Williams. Krauthammer said that all Romney has to do is say nothing and come out of the trip looking better on U.S.-Britain relations than the president, and he messed up on the first day.
RELATED: Piers Morgan Defends Romney's Olympics Comments: 'He Was Just Speaking The Truth'
Regarding Prime Minister David Cameron's quip that you could easily hold the Olympics in "the middle of nowhere," Krauthammer said he was clearly referring to Utah, the state where Romney helped run the Winter Olympics in 2002. He said that Romney's comments on the London Olympics were "unbelievable," "incomprehensible," and "a lot of other adjectives." Krauthammer said Romney shouldn't be saying anything on his international trip, except for kind words about the countries he is visiting.
Krauthammer rattled off a list of reasons why President Obama has, in his opinion, damaged the special relationship between the two countries, and marveled at how Romney was already getting all sorts of heated criticism.
"All Romney has to do, say nothing. It's like a guy in the 100-meter dash. All he has to do is to finish, he doen't have to win. And instead, he tackles the guy in the lane next to him and ends up disqualified. I don't get it."
Bret Baier suggested that Romney was speaking not as a presidential candidate, but as a former Olympic organizer. HotAir's Mary Katharine Ham agreed, saying Romney was offering a "technical perspective," but said Romney was given a softball question so he could "give a giant smooch to the British people," and struck out.
Kirsten Powers said that Romney's comments are not going to matter that much, considering the zero electoral votes Britain gets in November, but argued it illustrates that Romney is a foreign policy "novice."
RELATED: CNN's Fareed Zakaria: Mitt Romney Is 'Not Very Well Briefed On Foreign Policy'
Krauthammer ended the segment by asking why of all the animals and all the sports in all the world, the Romneys had to have a horse participating in a big "hoity-toity event" at the Olympics. He quipped, "After he wins, he can take the horse on Air Force One if he wants."
Watch the video below, courtesy of Fox News:
Have a tip we should know? tips@mediaite.com
Josh Feldman - Senior Editor