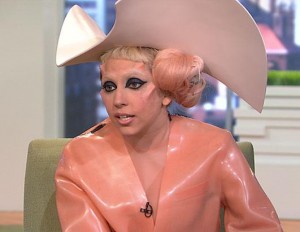 Singing superstar Lady Gaga appeared on Good Morning America this morning to promote AIDS awareness and did not disappoint with her shocking outfit. Wearing some provocative clothes is one way to get people talking about the singer's work with the MAC Viva Glam Campaign and it also livens up what otherwise might have been a forgettable morning conversation.
Lady Gaga acknowledged her traffic-stopping attire saying:
"Today I really wanted to, head to toe, be representative about what we women and people all over the world need to be concerned about which is . . . HIV. . . . I want to get people started at home at a younger age with their children talking about HIV, talking about AIDS, talking about safe sex."
The self-described artist and activist urged that this sexually transmitted disease is zero percent curable but one hundred percent preventable, and hoped that sales of her new lipstick could help raise money for the cause.
When GMA co-host Robin Roberts asked about the singer's much talked about entrance at the Grammy's in an egg, Lady Gaga claimed she was in the egg for three full days before the awards show. Although this response generated much off-camera laughter, it was hard to tell if she was joking. Finally, demonstrating just how truly unique she is, when Roberts wondered if Lady Gaga could work with any artist, dead or alive, who would it be, Ms. Gaga responded "I think that my fans are artists, so I would work with all of you."
Watch the clip from ABC below:

Have a tip we should know? tips@mediaite.com