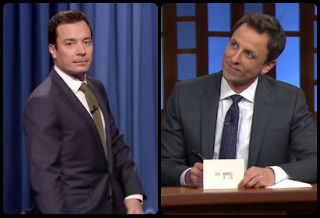 In his second week on the air as host of NBC's Tonight Show, Jimmy Fallon's ratings dropped significantly from his incredibly strong debut. But he still managed to tower over his network competition, bringing in more viewers on average than ABC's Jimmy Kimmel Live! and CBS' Late Show with David Letterman combined.
While in his first week, Fallon averaged 8.5 million viewers, that number dropped to 5.5 million in week two. His rating in the coveted 18-48 demographic went from 2.8 to 1.8. Meanwhile, Jimmy Kimmel managed to increase his ratings in Fallon's second week, going from 2.3 million to 2.6 million total viewers and rising slightly from 0.6 to 0.7 in the demo. David Letterman's numbers stayed more steady.
Fallon also had the youngest audience in late night, thought it still hovered above the target demo. His audience's median age was 52.7, a bit younger than Kimmel's 56.2 and Letterman's 59.2.
Here's the breakdown for the week of February 24-28, 2014, according to Nielsen's "live plus same day" data:
Tonight Show Starring Jimmy Fallon (NBC): 5.5M total viewers, 1.8 in 18-49 demo

Late Show with David Letterman (CBS): 2.7M total viewers, 0.5 in 18-49 demo

Jimmy Kimmel Live! (ABC): 2.6M total viewers, 0.7 in 18-49 demo
And, since today's late night viewers are not only watching on TV, here's a look at the most popular video for each of the three shows last week on YouTube (as of Thursday, March 6th):
Tonight Show Starring Jimmy Fallon (NBC): Lip Sync Battle with Paul Rudd, 8,104,260 views

Jimmy Kimmel Live! (ABC): Liam Neeson Threatens a Fan on Jimmy Kimmel Live, 956,510 views

Late Show with David Letterman (CBS): David Letterman – Dale Earnhardt Jr. on Daytona 500 Victory, 116,550 views
RELATED: Seth Meyers: The Late Night Host for People Who Still Love SNL
Last week also saw the premiere of NBC's Late Night with Seth Meyers, which had a relatively strong start with an average 2.7 million total viewers and a 1.0 rating in the 18-49 demo. That put it solidly ahead of CBS' Late Late Show with Craig Ferguson, which averaged 1.3 million viewers and an 0.4 rating in the demo. Meyers' ratings were the best Late Night had seen since 2004, not including Fallon's final week as host of the show last month.
For now, Fallon and Meyers are keeping NBC at the top of the late night heap, as they were when Jay Leno was hosting the Tonight Show. As of this week, Fallon is already seeing his ratings sink into the 3 million range where Leno lived for the last year or so. So far, that is still enough to keep him in first place, but if his numbers continue to drop, he could find himself in a real race with Kimmel and Letterman.
Previously: Late Night Ratings Watch: Fallon Dominates in First Tonight Show Week
[photo via screengrab]
— —
>> Follow Matt Wilstein (@TheMattWilstein) on Twitter
Have a tip we should know? tips@mediaite.com