Lawrence O'Donnell Chats With Internet Sensation Zach Wahls And His Same-Sex Family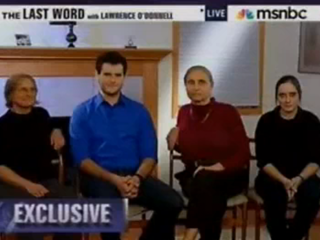 University of Iowa student Zach Wahls inadvertently became a public figure yesterday after a passionate speech in defense of same-sex marriage, where he used himself and his two mothers as an example of the beautiful families that could arise from allowing couples like his parents to raise children. Lawrence O'Donnell was curious to hear more, and tonight he welcomed the entire Wahls family to paint a clearer picture of what their life together was like.
Wahls had previously spoken in front of the state legislature to defend his family, and shied away from the praise O'Donnell provided him by noting how important that law was to his life, and that "if it was your family that was being told it didn't have the legal right to exist in your state, I think you'd have done the same thing." His mother Terry beamed when asked how she felt watching her son, telling O'Donnell that her son's words brought "tears to my eyes" and that listening to him speak was "very, very lovely." The rest of the family– his mother Jackie Reger and sister Zebby Wahls– both commented similarly, the latter saying that it was "incredible to see him go out and make a difference in the world."
As for Wahls' future, he is still an engineering student, and his passions lay elsewhere than politics– so as much as O'Donnell would like to see otherwise, Wahls noted that he has no plans of running for office, though he does have an interest in public policy.
The interview with the Wahls family via MSNBC below:

Have a tip we should know? tips@mediaite.com