Letterman Bandleader Paul Shaffer: 'This Was the Best Job I Was Ever Going to Have'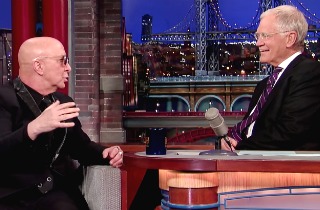 For 33 years, over the span of two separate late night shows, David Letterman has remained side-by-side with his master of music Paul Shaffer. And tomorrow night, the curtain will finally close on The Late Show and Letterman will bow out of late night.
But what of his buddy Shaffer? Well, the CBS Orchestra leader opened up to The New York Times about those 33 years and what's next for him.
Shaffer recalls how he and Letterman met for the first time and how he was drawn to "the level of his nuttiness." And when asked why he stayed for all those years, Shaffer said, "I realized, ultimately, that this was the best job I was ever going to have. The main reason being Dave himself. How encouraging he was."
Of course, it was hard for him to hear the news that Letterman decided to retire, but ultimately Shaffer's come to accept leaving late night:
I thought initially, what am I going to do with myself every day? I haven't had to answer that question for 33 years. At 4 o'clock, where am I going to be? It's been so regular that it keeps one out of trouble and centered. And then came the mixed-feelings phase. It's a great accomplishment for all of us. We've done it the longest that anybody has, so far. But wow, am I ever going to miss it! I'm so sad about it. I went through that phase. And now I have arrived at a more Zenlike state. The only appropriate emotion is gratitude. And I am so grateful.
As part of the final leg of shows, Letterman brought Shaffer to the guest chair last week. You can watch them together below, via CBS:
[Image via CBS/screengrab]
— —
Follow Josh Feldman on Twitter: @feldmaniac
Have a tip we should know? tips@mediaite.com
Josh Feldman - Senior Editor