Limbaugh to Oprah: 'How the Hell Did You Become Who You Are' If Obama Faces Racism?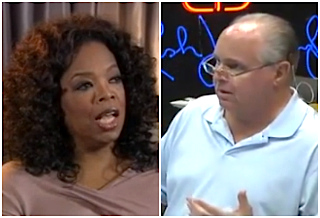 Rush Limbaugh returned to one of his favorite targets on Friday's radio show: Oprah Winfrey. This time, Limbaugh seized on comments Winfrey made to the BBC about Americans showing "disrespect" to President Barack Obama because of his race. The host couldn't wrap is head around that concept, asking "then how the hell did you become who you are?"
Limbaugh was particularly outraged that Winfrey chose to highlight Rep. Joe Wilson's (who she referred to as a senator) "You lie!" moment as an example of this "disrespectful" behavior. "Why hasn't anyone in your audience ever said 'You lie!'?" he asked, "because you have." He said Wilson was "right" to yell out his accusation during the State of the Union because "Obama was lying."
"These people are not nearly as smart as they think they are," he continued. "They are embarrassingly ignorant… It's not because he was black! It's because he was lying, Oprah! He's lying now! He just told the biggest presidential whopper in history!"
Limbaugh then continued questioning the existence of racism in America by asking, "If black people in this country are so mistreated and so disrespected, how in the name of Sam Hill did you happen?" He asked, "If there's a level of disrespect simply because he's black, then how Oprah have you managed to become the–at one time–most popular, and certainly wealthiest television personality? How does that happen?"
In her immediately controversial remarks, Winfrey stressed that it is the "office" of the presidency, more than the president himself, that she believes people disrespect, perhaps because after 43 white male presidents in a row they have trouble getting accustomed to a black one. Winfrey had to overcome similar hurdles to achieve her level of dominance in the television industry, but the two fields can't be quite so easily equated.
Listen to audio below, via The Rush Limbaugh Show:
And watch Oprah's original comments below, via BBC:
[photo via screengrab]
— —
>> Follow Matt Wilstein (@TheMattWilstein) on Twitter
Have a tip we should know? tips@mediaite.com