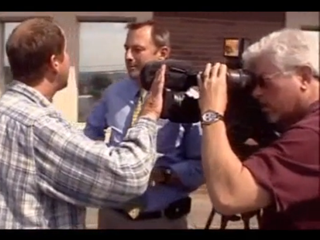 Whatever the emotional source of the violence erupting as 500 longshoremen went on a rampage at a shipping yard in Washington over union benefits this week seems not to have subsided one bit. The International Longshore and Warehouse Union received a visit from local station KGW and were none too receptive– in fact, a representative in some capacity (he wouldn't say) of the union threatened to break their cameras, steal their glasses, and sue them for trespass.
The man, who only identified himself by the name "Fuck You Cocksucker*," immediately turned away the reporters with some heavy-handed profanity, to which the reporter initially joked, "you're not with the PR staff, are you?" He didn't quite answer– or, if he did, he did so with some sort of coded language that included a lot of phallic imagery. He then threatened to break the cameraman's camera and glasses, until finally telling them they would be committing trespass.
The reporting crew agreed to leave, save for one question: "What is your name?" He answered accordingly.
Comical as this video is for viral internet purposes, watching a union representative treat a member of the press the way we assume reporters are treated in authoritarian countries is quite a bit disturbing, especially if the ILWU had any interest in making their plight empathetic to anyone whatsoever. It is also ironic that it is "Mr. Cocksucker" who threatens legal action, as this is full-on video proof, beyond reasonable doubt, of assault that could easily be employed in a civil suit.
The segment via KGW below:


*We suspect this is an alias.
Have a tip we should know? tips@mediaite.com