Man So Angry At Bristol Palin Winning In DWTS That He Shot His TV With A Shotgun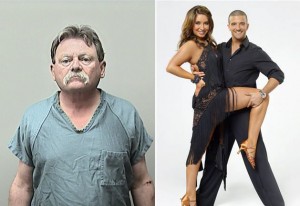 At this point, you probably know that Bristol Palin has moved to the finals on Dancing with the Stars. You also might know that some don't believe she deserves it and aren't happy about it. What you probably don't know, is that one of those people got so angry he shot his TV with a shotgun and then had a 15 hour standoff with the police. If Bristol Palin doing well on dancing show can make the guy this angry, lets hope he never tries to watch the news.
Yes, on Monday, a Wisconsin man named Steven Cowan decided to go all Elvis Presley on his television because he couldn't stand to see Palin move up the ranks of the ABC competition. Smoking Gun has the police report as well as a write up of the fairly ridiculous story:
"According to a criminal complaint, Cowan's wife called police Monday evening to report that her husband had blasted the TV and was threatening to kill himself. Cowan, who had been drinking, became angry while watching Palin, 20, perform on the ABC program.

As Palin, pictured at left, was dancing, Cowan 'jumped up and swore, saying something to the effect of, 'The fucking politics.' Steven was upset that a political figure's daughter was dancing on this particular show when Steven did not think that she was a good dancer,' the complaint notes. Cowan is pictured in the above mug shot.

Janice Cowan told Dane County Sheriff's Office deputies that she called 911 after her husband blasted the TV and then pointed the shotgun at her. She added that Cowan warned her that he would kill himself if she brought anyone back to their home in the town of Vermont.

After a lengthy standoff with cops, Cowan surrendered yesterday at 11 AM. He is facing disorderly conduct and weapons charges."
Yep. This is a thing that actually happened.
Now, the very fact that this involves one of the Palin clan means that it will be analyzed and over-discussed till the cows come home. People love talking about the Palins no matter how small the reason. Some will be pointing out the obvious Tea Party conspiracy that's been helping Bristol. Others will be pointing out that Cowan is proof that Palin-haters are a violent, dangerous lot. I've got another interpretation: Anyone who cares about reality TV is completely insane.
Yeah, I said it. Seriously, do these people not know how to use a remote? We are in a veritable Renaissance of televised entertainment where hundreds of channels that didn't exist 10 years ago are all producing original content so complex and thoughtful that it's hard to even fathom it. And, still, the most popular shows involve Jennifer Grey pretending she doesn't already have extensive dance training. Ugh! It just makes me so angry I could…I could…
Uh oh. I better stop writing this post. I fear for the safety of Mediaite's TVs.
UPDATE: This post originally said they guy was from Vermont. He is from Vermont but he's from the town of Vermont, Wisconsin. Oops. Fixed.
Have a tip we should know? tips@mediaite.com