Megyn Kelly Is Sick and Tired of the Media's Endless Trump Coverage: Remember Terrorism?!
Megyn Kelly Is Tired of Media's Endless Trump Coverage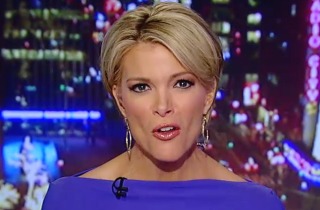 Megyn Kelly could barely hide her frustration tonight that Donald Trump's Muslim entry ban proposal and the media's coverage of it has completely eclipsed the national conversation about terrorism.
Last night she expressed some exasperation about how Trump helped out President Obama by distracting the media. Tonight she got way more fired up about it.
"Less than a week after the worst terror attack on America since 9/11, we are in a full-blown media circus," Kelly said. "Not about these two killers and their terror ties, but about something that a man who is not the president would do if by chance his party nominates him to be president and then the same general electorate that elected Barack Obama twice happens to choose him, Donald Trump, as their president."
She repeatedly said it's pretty amazing that everyone is talking about this not-gonna-happen policy when we should be talking about terrorism, telling her audience, "We will not be devoting an hour or a half hour or 20 minutes to what Trump said tonight."
In fact, for as frustrated as she may have been at Trump for drastically changing the subject, Kelly seemed more pissed off at the media for being "complicit" in just going along with this, saying they would probably "prefer to be talking about" Trump over the president's terrorism strategy.
Marc Thiessen said the White House is going "thank God for Donald Trump" every day because his policy is ridiculous and will never happen and it happens to be "a huge propaganda victory for Islamic radicalism."
Kelly said the media should maybe have a responsibility to calm down their coverage and not interview Trump for a half-hour then re-air it over and over and over.
Watch above, via Fox News.
[image via screengrab]
— —
Follow Josh Feldman on Twitter: @feldmaniac
Have a tip we should know? tips@mediaite.com
Josh Feldman - Senior Editor