Megyn Kelly Questions Motive Behind Hacking: What If DOJ Thought Sharyl Attkisson Was Another James Rosen?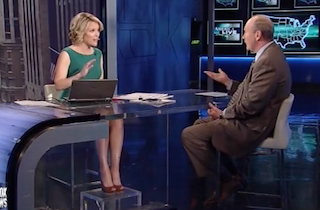 On Tuesday afternoon, Megyn Kelly tackled the story about CBS' Sharyl Attkisson's work and home computers being hacked. Kelly and former prosecutor Andrew McCarthy tried to connect the dots when it came to the motive of who may have been behind the hacking — and who's capable of doing it. If the Justice Department thought Attkisson was another James Rosen, Kelly asked, how would we find out?
Attkisson told Bill O'Reilly, "I think I know" who's behind the hacking, but that she's not yet prepared to come forward with any more information. McCarthy pointed to Attkisson's "reputable" track record, noting that she wouldn't simply throw that assertion out if it weren't backed up.
So then the question becomes one of capability and motive. The story has traction, McCarthy argued, because the Obama administration has a record of "not only pursuing journalists who are conducting investigations that are at times uncomfortable for the administration, but an overall use of their law enforcement and bureaucratic power to harass people that are political dissenters."
And at the time, Attkisson said she was working on stories related to Fast and Furious, Benghazi, and green energy. Our federal government and the Chinese government have the capability, McCarthy noted — but Kelly added that the Chinese would have no interest in those stories.
"In the land of hypotheticals," Kelly posited, "what if the DOJ thought Sharyl Attkisson was like a James Rosen, another co-conspirator who must be stopped? And they got some warrant without Sharyl knowing about it, CBS knowing about it. How would we find out that they were the ones behind it?"
McCarthy replied that they would ultimately have to let Attkisson know. If they were acting lawfully, she'll find out — and if not, he said, it would have to come out through an investigation.
Watch below, via Fox News:

Have a tip we should know? tips@mediaite.com