Megyn Kelly Report On Wounded Veterans Spurs Nearly $200K Charitable Donations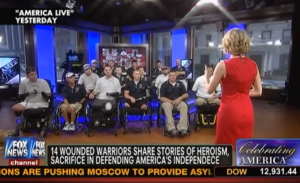 Yesterday, Megyn Kelly had a segment with wounded veterans. Today, Kelly returned to the story to inform us that since the report, charities have received nearly $200,000 in donations.
During yesterday's report, Kelly spoke with 14 veterans who were severely wounded during their service in Afghanistan and Iraq. "Their unbelievable strength and devotion to our country moved not just those of us here at America Live, but thousands upon thousands of our viewers as well," she said.
She shared a clip from yesterday in which she spoke to one Marine Corps veteran, Todd Nicely, who lost his legs and hands — and upon learning of those injuries, he asked if anyone else was hurt, happy to hear no one else was. Nicely said, "When you're over there, you're looking out for the guys next to you because they're the ones taking care of you. So, when something like that happens, you just hope nobody else got injured while you were doing what you were doing what you were put over there to do. It's one of those things where you're always looking out for the guy to the left."
Kelly again noted their unique conditions "require some help from the rest of us," including specialized homes that accommodate them, helping their everyday lives. Just since yesterday, she said, there have been enough donations to complete a smart home. She further asked viewers to visit TunnelToTowers.org to make a contribution.
Have a look, via Fox News:

Have a tip we should know? tips@mediaite.com