Melissa Harris-Perry Vigorously Denies Mediaite Report She's Headed to Fusion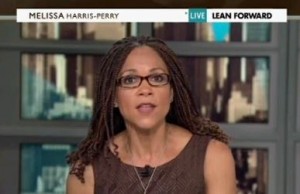 In a series of strongly worded tweets, former MSNBC host Melissa Harris-Perry is vigorously denying Mediaite columnist Joe Concha's recent report that she is in final talks with the Fusion network to host her own show. Concha wrote that according two sources close to the situation, Harris-Perry will be given her own program that "that will likely mirror her former offering on MSNBC." Her show on that network was suddenly cancelled earlier this month after Perry refused to host it citing frustrations with constant interruptions for political coverage.
Initially Concha reported that the Fusion show was a done deal and had been signed. After a tweet by Harris-Perry denying the deal and Concha following up with his sources, he clarified that an official deal "may not have been inked" but that it was in its final stages. Concha also received subsequent information (included in an Editor's note) that "Perry herself was apparently telling her former staffers that she was preparing for her own show at Fusion and inquiring about their interest in moving over with her." Fusion offered no comment on the deal but Perry fired back with a series of tweets:
LOL @Mediaite! Fusion? Really? SMH Y'all *know* I have a job @WakeForest right? Just call if you want to know what's up.

— Melissa Harris-Perry (@MHarrisPerry) March 11, 2016
It should be noted that Harris-Perry also worked at Wake Forest University while she hosted her MSNBC show "Melissa Harris-Perry."
Been college prof since 1999. TV gig always side hustle. Hosting #Nerdland was joy & privilege, but not pressed for new TV role.

— Melissa Harris-Perry (@MHarrisPerry) March 11, 2016
Apparently @Mediaite invested in stoking MHP v MSNBC drama to drive clicks. Cool y'all … fun to trend on a Friday afternoon. Let's try.

— Melissa Harris-Perry (@MHarrisPerry) March 11, 2016
To every single reporter currently blowing up my phone & email– "I'm not going to Fusion. Nope. No. Nah. @Mediaite full of it." Quote it

— Melissa Harris-Perry (@MHarrisPerry) March 11, 2016
So this "last place, recently disgruntled-for-no-real-reason, race-obsessed, marginally-talented host" has plenty to do– thanks @Mediaite

— Melissa Harris-Perry (@MHarrisPerry) March 11, 2016
We asked Concha to comment for this story and he said: "I am absolutely standing by my story." Concha, whose track record is impressive, has become quite the scoopmeister at Mediaite breaking stories including that Jay Carney would resign his position as White House press secretary to take a gig with CNN (which he did); and that Alec Baldwin would be getting his own program on MSNBC; Ronan Farrow losing his; three afternoon programs being cancelled (The Cycle, Alex Wagner and Ed Schultz); and the additions of Kate Snow and Chuck Todd to MSNBC from the NBC side of  30 Rock.
"I have solid sources throughout the industry, particularly as it pertains to MSNBC." Concha explained. He insists Harris-Perry was caught off-guard with the report. "As strenuously as Harris-Perry is denying this, why wouldn't the network just offer a flat denial instead of saying 'no comment?'" Concha said.
We will, of course, update with any developments on this story.
Have a tip we should know? tips@mediaite.com