Michael Moore: "The Next Time We Have A Hole In The Gulf… We Need To Call In The Chilean Government"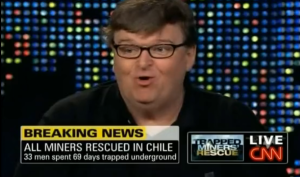 The story of the 33 Chilean miners who were rescued over the past 24 hours is indisputably inspiring and heartwarming. Michael Moore agrees with that assessment: "In a time when there's not a lot of good news, for something like this to happen, I think, makes people feel really good," he told Larry King last night.
But Moore didn't stop there. "I was thinking, sitting here, watching this," he continued, "that the next time we have a hole in the Gulf of Mexico, we need to call in the Chilean government."

Huh. Moore laughed after making his remark, indicating that he was joking on some level. Still, he went on to give a rationale: the miners were extracted in a little over two months, whereas "it took us three months to plug a seven-inch diameter hole. And all there was, was oil coming. There weren't human beings down there."
In the divisive filmmaker's opinion, the Chile rescue "shows what can be done when your priorities are straight. Unfortunately, the priorities with the BP disaster—"
At this point, King cut Moore off. "You never quit, do you, Michael?" he asked, like a long-suffering schoolteacher. Moore soldiered on anyway, bringing up the disaster that killed 29 miners in West Virginia this April.
By the way, both the drill used to rescue the Chilean miners and the man operating that drill, Jeff Hart, came from the United States—which deflates Moore's argument. Man, wouldn't it be great if we could just be thankful that those 33 men are safe, rather than trying to use the story to further some other agenda?
Video of Moore on Larry King Live is below.
Have a tip we should know? tips@mediaite.com