Michael Steele Grills Axelrod Over Obama's Deficit Plan: 'That Was Good, But You Didn't Answer The Question'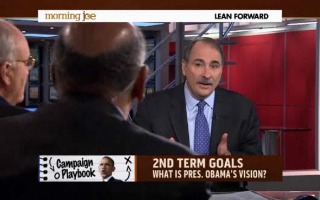 David Axelrod stopped by Morning Joe on Monday, where he received a grilling from the panel while discussing President Barack Obama's second term goals.
Host Willie Geist asked Axelrod why the American people should believe that hiring would accelerate under another Obama term. And after critiquing Romney's vow to create 12 million jobs, Axelrod found himself facing off against fellow guest Michael Steele. "That was good," said Steele of Axelrod's remarks, "but you didn't answer [Geist's] question. The question was a real specific one."
"The President has had three and a half years," Steele continued. "He has a record. Obviously. I'll cede the Bush years — that was a horrible place to start from. Ok, so here we are three and a half years later. This election, by all standards, based on what you're saying, the President should be blowing the doors off if the American people saw the economy the way you're describing it. So the question is, for the next four years, what is this President specifically going to do to address the six trillion dollars he's added to our deficit?"
Axelrod responded that he didn't say that we are currently where we need to be, although he does think the American people are better off than they were at the beginning of the President's term. The goal here, he said, is to address and focus on the middle class. As for the deficit, he said that "the art of it is how do you deal with the deficits in a responsible way so that you don't throttle down?" So the President, he continued, has proposed a $4 trillion deficit plan over the course of a decade.
Panelist Mike Barnicle then followed up by asking Axelrod why it is that the President didn't "grab Simpson-Bowles and run with it." One reason for this, Axelrod replied, is that it would have been DOA thanks to House Republicans.
Watch, via MSNBC:
Visit NBCNews.com for breaking news, world news, and news about the economy
Have a tip we should know? tips@mediaite.com