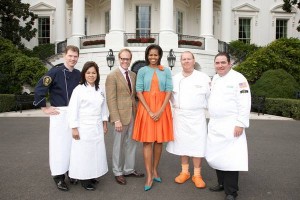 It was a Very Special Super Chef Battle on Iron Chef America tonight, featuring White House Executive Chef Cristeta Comerford, the White House vegetable garden, and garden proprietor (among other things) First Lady Michelle Obama.
First Lady Obama joined Comerford, host Alton Brown, and the other Iron Chefs on the South Lawn to provide the night's 'secret ingredient'. The chefs had their fill of produce from the White House; the television event was intended to promote the benefits of home-grown vegetables and healthy eating habits.
The First Lady is a staunch advocate for 'going local' for healthy meals when possible, and the Kitchen Stadium battle featured a number of other DC-area products including locally-raised turkey and pork and a jar of honey from the White House beehive. (Yes, Virginia, there is a White House beehive.)
Chef Comerford — one of many staff holdovers from the Bush Administration – was paired with Iron Chef regular Bobby Flay for the episode, with Mario Batali and 'Super Chef' Emeril Lagasse providing the opposition. Chefs Comerford and Flay already had a mutual acquaintance – as twitter user @DukeStJournal noted, Bobby Flay defeated New York chef Marcus Samuelsson in an Iron Chef episode in 2008. Samuelsson joined Comerford in the kitchen for November's State Dinner honoring Indian Prime Minister Manmohan Singh.
Though First Lady Michelle Obama's appearance was brief, a number of other White House chefs – including assistant chef Sam Kass – were in attendance for the event. Kass talked up the success of the garden, saying over a thousand pounds of food had been produced in the garden's six months. The food, according to Kass, is distributed between lunches and dinners for the First Family, the Navy mess, and a significant amount goes to nearby Miriam's Kitchen.
Alton Brown was joined by Olympic swimmer Natalie Coughlin, actress Jane Seymour, and chef Nigella Lawson for the judging. The resulting dishes turned out to be a little less than perfectly healthy — even vegetables from the White House garden lose a little nutrition in the face of lardo, bacon's creamier cousin — but the two teams managed to turn the White House garden into some pretty impressive dishes, including a tasty-looking sweet potato and egg ravioli from Batali.
Despite some unflattering editing in commercial teases, chefs Comerford and Flay emerged victorious after the frenetic, epic battle. The pair won by a slim margin of five points over Batali and Lagasse with a menu that featured the President's favorite vegetable in the form of a sweet potato custard tart. As an added bonus, the team also took home an impressive $25000 donation for the charity of their choice – Meals on Wheels – from Food Network and the Chairman.
If you missed the episode, don't fret – it's not the garden's first appearance in reality television, and if the feedback from tonight is good, it probably won't be the last.
Related:
Liveblogging The 'Iron Chef America' White House Episode [Air America]
Interview: WH Executive Chef Cristeta Comerford [Food Network]
Bobby Flay gives President Obama some grilling tips [Food Network]
Have a tip we should know? [email protected]