MSNBC Anchor: Will 'Gloating' GOP'ers Act 'Happier Than Pigs in Slop' Over Obamacare Flop?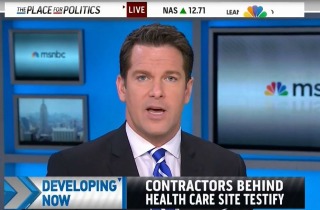 While introducing Rep. Charlie Rangel (D-NY) on Thursday, MSNBC anchor Thomas Roberts opened up with some of his thoughts on how Republicans should comport themselves during the course of the debate over the Affordable Care Act's botched roll-out. He wondered if the Republican can be constructive and "fact-based" or will they revel in their vindication like "pigs in slop?"

"Can House Republicans who despise Obamacare drop the drama and ask fact-based questions to make it better, or will they act happier than pigs in slop gloating over a glitch roll-out?" Roberts asked.
When Rangel replied that "Republicans all have this obsession to destroy a plan that would provide health care" and that Democrats in Congress are trying to provide that care, not insurance, to millions of uninsured, Roberts agreed.
RELATED: Obama Catches Fainting Woman During Obamacare Speech
"I never thought when I went to Congress over 40 years ago that my biggest problem with health care was taking care of the overwhelming number of people who are either under or uninsured," Rangel said.
"Or that the advent of the internet would be what is standing in the way of everybody," Roberts added, as though successful online health insurance exchanges have never been successfully established – including in a variety of state-level exchanges currently administering the implementation of the ACA.
It hardly seems relevant whether or not Republicans decide to take the earned opportunity to gloat over how events are absolving Republicans of indulging in the imagined offense of preemptively opposing the implementation of the ACA. For some, however, whether Republicans are magnanimous or haughty in the extenuation of both their cause and tactics impacts how some think Obamacare's flop should be covered.
Watch the clip below via MSNBC:
[Photo via screen grab ]
— —
> >Follow Noah Rothman (@NoahCRothman) on Twitter
Have a tip we should know? tips@mediaite.com