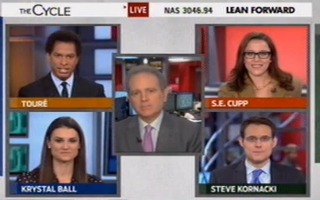 Pundits and pontificators have a tendency to go overboard when offering analyses – educated or otherwise – about political candidate's movements, gestures, gesticulations, verbal flubs and nuances during debates. Last night's vice presidential debate lends itself uniquely to that kind of dubious analysis because, well, there were a number of conspicuous non-verbal cues from both Vice President Joe Biden and GOP vice presidential nominee Paul Ryan. To suggest, however, that either Biden's excessive guffawing or Paul Ryan's water drinking belied a deeper meaning – that either of men were deliberately untruthful – that goes a bit too far. Not too far, perhaps, for media training expert Bill McGowan.

"Paul Ryan must have drank a gallon of water during the debate," said Touré. "It was so strange that it seemed every other cutaway – at least, in the first half of the debate – he's drinking down some water."
"It's one thing to take a sip of water," said McGowan. "It's another thing to be doing the rinse and spit routine in the dentist's chair."
"He wasn't just drinking, he was sort of swishing it around and having it be very noticeable," McGowan added. "If you noticed, within the first 30 or 40 seconds of walking out onto the set, he immediately reached for the water. I don't think anybody really needs to wet his whistle that early in the debate."
"Whenever Ryan was really pressed on something very aggressively by Biden, he reached for the glass," McGowan said. "If you were playing poker, that would sort of be the tell."
The term "tell" refers to the unconscious signal that could give away a poker player's bluff. So, McGowan was suggesting that Ryan was, in fact, being mendacious and his water drinking was a giveaway.
Of course, the excessive overthinking of a situation could lead one to come to that conclusion. Particularly susceptible to this hyper-analytical condition would be the newly-enthusiastic Democrat who is now hoping against all hope that Biden's spirited performance last night reversed the trajectory the presidential race and shifted it back in Barack Obama's favor. Emphasis on "hope."
When the Biden/Ryan debate is entirely forgotten at approximately 11:01 a.m. ET this Sunday as the nation begins to speculate about Tuesday's second presidential debate, I would not expect to hear much more about Ryan's water drinking – or, for that matter, Biden's theatrical mannerisms.
But, in the meantime, a little self-deception can serve as chicken soup for the wounded progressive soul. So, why not? Let's presuppose, if only for the weekend, that Paul Ryan is a clever deceiver — exposed ironically by his compulsive propensity to rehydrate. Whatever keeps those checks coming in for the media trainers.
Watch the clip below via MSNBC:
> >Follow Noah Rothman (@Noah_C_Rothman) on Twitter
Have a tip we should know? tips@mediaite.com