MSNBC Guest: U.S. Close To 'Failed State' Gotham City, Encouraging Vigilantes Like Zimmerman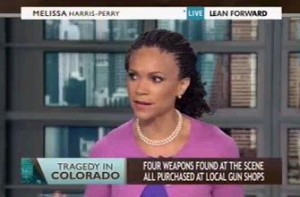 On her show today, MSNBC host Melissa Harris-Perry led a panel discussion on all the factors surrounding the Colorado shootings at a midnight premiere of The Dark Knight Rises early yesterday. She brought up possible cultural factors connected to the shooting, and The Nation editor Richard Kim drew a comparison between Gotham City, "a failed state," and where the United States currently stands, even making the link to vigilantism and suggesting that George Zimmerman did what he did because "we've cut all these police forces."
RELATED: Roger Ebert In NYT Op-Ed: No 'Easy Link Between Movies And Gun Violence'
Perry wondered if there were any cultural connections to the shooting, considering the violence in the movie, and asked if that needs to be a bigger part of the discussion. Kim said that he saw the movie, and drew a parallel between the world of Gotham City and modern America.
"The Dark Knight takes place in a failed state… because elites are corrupt, law enforcement's corrupt. But the thing that really marks it as a failed state is that the state has lost its monopoly on violence. And in that situation, right, you have vigilantes like Batman, you have organized crime, you have terrorists. And what the movie depicts is that it's very difficult in a failed state to tell what is just and unjust violence, right?"
Kim said that "it's not too much of a stretch" to suggest that within the context of the Aurora shootings, "we approached a failed state." He brought up the fact that the shooter obtained his weapons and ammunition legally, and then addressed the rise of vigilantes in failed states.
"When you have people like George Zimmerman encouraged to vigilantism because we've cut all these police forces, you have the shards of a failed state so I think that's a very profound, a very profound, sort of reflection, a dark reflection, really. Do we want to live in that night?"
Watch the video below, courtesy of MSNBC:
Have a tip we should know? tips@mediaite.com
Josh Feldman - Senior Editor