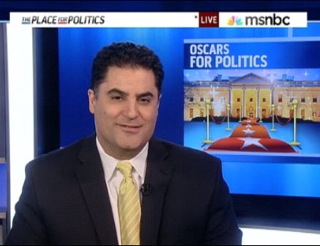 Cenk Uygur is very excited about the White House Correspondents' Dinner, but he is also gravely concerned as it is a time when journalists, politicians, and lobbyists get uncomfortably close to each other. In a segment yesterday, Uygur warned journalists to stay away from special interests, particularly big energy, which also happens to saddle uncomfortably close to, well, MSNBC.
Unlike many who rail in the same general direction, Uygur admits that he would have loved to be invited to all the events surrounding the dinner, and even showed off a photo of himself and actress Rosario Dawson from such an event this week– "I'm just as guilty as anybody else." He admits he will be going to the MSNBC party and would go to the actual dinner if invited. That said, he warned fellow journalists and politicians to stay vigilant around the temptations lobbyists will put out for them.
"Do you think the American Gas Association is putting these parties together out of the goodness of their hearts?" he asked, warning that "they're trying to seduce us" when "our job is to hold these guys accountable." While he did initially admit that he would adore an invitation to any of these lobbyist events– and that he would go– he noted, "we shouldn't do any of those things." But acknowledging his pleas to peers not to attend fancy parties would be about as successful as abstinence education, he warned journalists to protect themselves if they do. "We've got to be enormously careful not to fall into that trap," noting, "you know we'll have succeeded if the American Gas Association stops having parties."
While the entire lecture felt a bit contrived and, given how much he stressed his desire to attend said parties, slightly embittered, the online version of the segment delivered the final ironic blow: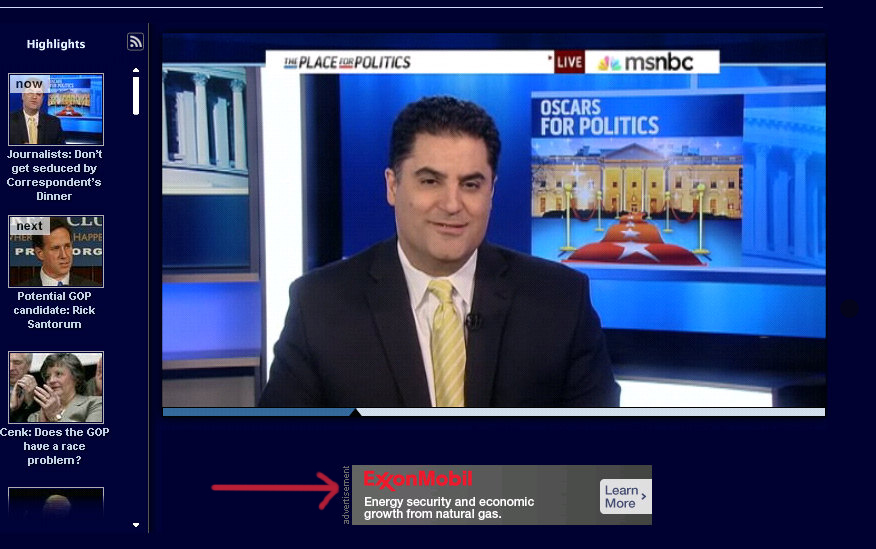 Yes, that's an add for Exxon natural gas (who are not members of the American Gas Association, as most of their industry is in oil). Airing under a harangue about how natural gas tycoons are dangerous and seductive. There's a fine line between paying in dollars for good publicity in ads and paying in cocktails for good publicity on shows.
The segment via MSNBC below:

Have a tip we should know? tips@mediaite.com